To be entered in this week's drawing, leave a comment…
I have a friend who interviews writers about their workspace. http://lisajordanbooks.com/blog/ And their offices look so neat and tidy. Sometimes I always wonder how they can work in such order. And I wonder if that's the way their offices always look, or do they hide all their "stuff" before they take the picture?
I remember as a kid when someone called and said they were going to drop by,  we all worked like crazy stuffing things under the couch or in a closet for the 30 minutes or so it took them to get to our house. This was way before cell phones, so you got more advanced warning. Now when people call it's usually from the driveway or around the corner, if they call at all. Most just drop in. More than one person has found my living room and kitchen a mess. And heaven forbid they look in my office.
But back to writers and their offices. I've heard that some writers must have a clean desk to be able to write. And others like me, write through the chaos. I had a friend to tell me once that he'd heard  people who could stand clutter were well adjusted, and if that was true, then I was very well adjusted.
Here's a phot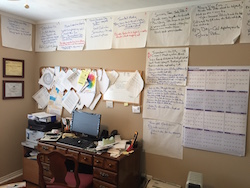 o of my office–and that's just one wall. It doesn't always look that messy. Really. But those sheets you see are my plot board where I've outlined the last half of a book.
Sometimes I have more distractions than other times. Like here: That's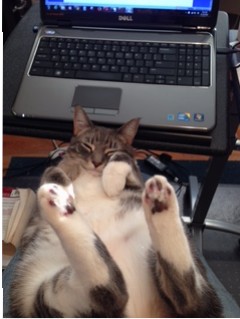 my kitty Suzy in my lap. She's why I can't work somedays. 🙂
For about six months out of the year, I do have another office. It's on my back deck:
It's my favorite place to work!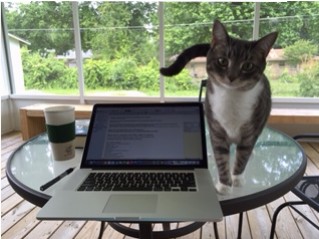 How about you? Where do you like to work? And do you like your work area neat and tidy or can you work better if it's a little messy?
Tell me about it and I'll enter you in a drawing for my 2nd book in the Logan Point series,   A Promise to Protect. But first, the winners from last week:
Laurie Bergh — Shadows of the Past
Delores Topliff: $10 Gift card
Elaine Stock, Mary Hamilton's YA book See No Evil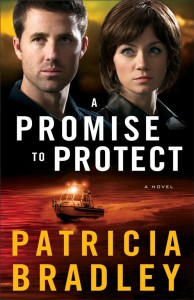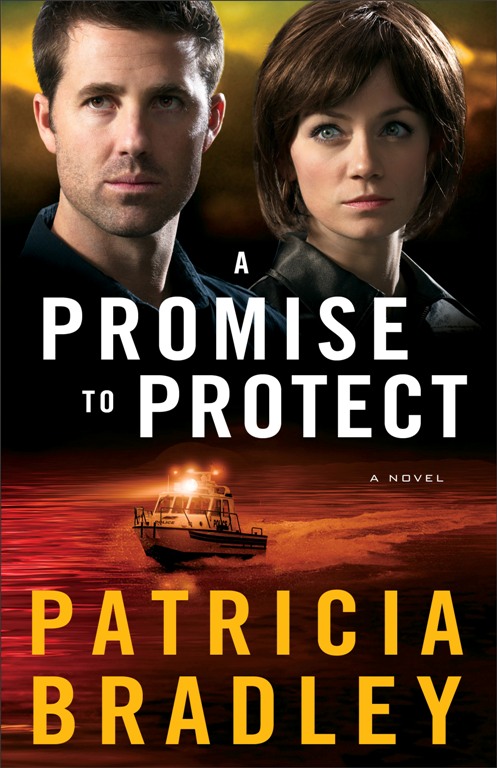 Overview
In a steamy small town riddled with broken promises, one woman's secret could change everything.
Acting Sheriff Ben Logan hasn't heard from Leigh Somerall in a very long time, but it doesn't mean he can get her–or their whirlwind romance of ten years ago–out of his head. When she calls out of the blue, it is with a strange request to protect her brother, Tony. But all too soon, Ben is charged with a different task–protecting Leigh from the people after her brother. With Leigh doing everything in her power to avoid Ben, it's no easy task. And the secret she is keeping just may change their lives forever.

"A taut story of mistakes and betrayal, a mother's fierce love, revenge and danger–and the redeeming wonders of faith and love."–Lorena McCourtney, author of the Cate Kinkaid Files and the Ivy Malone Mysteries
"Old secrets, second chances at love, and a skillfully crafted small-town suspense. You will fall in love with Ben and Leigh and cheer them on as they fight for their happy ending. I'm making room on my shelf for all of Patricia Bradley's novels!"–Susan May Warren, bestselling and award-winning author of When I Fall in Love