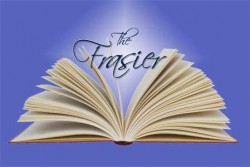 Got you there, didn't I?
But as I thought about this post about why entering the Frasier would be such an awesome thing, I wondered why a writer wouldn't enter it. So…
Here are my 10 Top Reasons why a writer might not enter the Frasier:
You never win anything.
You don't have anything written.
You heard it wasn't a good idea to start out with "It was a dark and stormy night."
You have a bad title.
You don't know how to write a synopsis. (My Book Therapy has really good articles on this one! In fact they have really good articles on everything writing!)
You're afraid to put your work out there for other people to read (or judge).
You don't like people saying your baby is ugly and that manuscript is your baby.
You know more than the judges, so you don't need their comments.
You entered last year and one judge said your dialogue was weak, that you explained something the other character would already know, like… "You look so down," Sally said. "I haven't seen you this down since mama up and left with the insurance salesman, and you had that nervous breakdown."
"Yeah, I know," Danny replied thoughtfully. "You know how awful those days were that I spent in the mental ward at the local hospital. But you were so good to introduce me to that cute nurse that I later married."
You got a publishing contract and aren't eligible!
Number 1 is why I'm not entering, and I blame it on the Frasier and the judges who helped me polish my first chapter until it gleamed. It gleamed so much, Revell gave me a 3-book deal! I personally think the Frasier is one of the best contests out there.
I entered the first year of the Frasier contest and finaled. The feedback was exactly what I needed to take my writing to the next level. So, if you really want to improve your writing and maybe even win a contest while you're at it, enter the Frasier. You won't be sorry you did!
Have you entered the Frasier in past years? What was your experience? Do you plan to enter the Frasier this year? Leave me a comment and let me know.
 Pat
Entries for the 2013 MBT Frasier Contest for unpublished novelists will be accepted through Sunday, March 31, at 11:59 p.m. The contest is open to Voices members. The winner will receive a scholarship to a My Book Therapy coaching retreat ($500 value). Final round judges are award-winning author Susan May Warren; literary agent Steve Laube; and Shannon Marchese, senior fiction editor for WaterBrook Multnomah Publishing Group. For more information, FAQs and to enter, visit the Frasier Page at www.mybooktherapy.com.