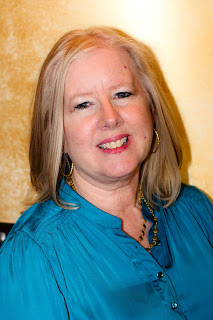 Johnnie Alexander writes inspiring stories that linger in the heart. Where Treasure Hides, her debut novel, won the ACFW Genesis Contest (2011). She also has won Best Novel and Best Writer awards (Florida Christian Writers Conferences), and Bronze Medalist (My Book Therapy Frasier Contest). A graduate of Rollins College (Orlando) with a Master of Liberal Studies degree, Johnnie treasures family memories, classic movies, road trips, and stacks of books. She lives in the Memphis area with a small herd of alpacas and Rugby, the princely papillon who trees raccoons.
I'd like to see Rugby tree a racoon!
I asked Johnnie some questions.
How long did it take to get your first book published?
 Where Treasure Hides began as a 2009 National Novel Writing Month project and was published first as an ebook in 2013.
Where She Belongs began as a 2005 National Novel Writing Month project and will be published in January 2015.
What is the name of your latest book, and how would you summarize it in less than 20 words?
 Where Treasure Hides
A talented artist protects art from Nazi looters while the man she loves fights against Hitler's evil regime.
Do you have a writing routine?
The routine varies according to the story, the deadline, and where I am in the process.
For my current WIP, I wrote about a third of the story, then went back to the beginning to edit and revise. When I was about two-thirds through the story, I started over once again, editing and revising.
I finished the story, met with my First Readers Team, and now I'm going through the story one more time before my September 1st deadline.
Deadlines can be terrifying! 
Have you ever gotten stuck in a story? What did you do to get past the "block"?
 I think there's a difference between getting stuck and a "block." Sometimes it's best to step away from the story and do something else like play a game on my phone or even take a walk.
But other times, I just need to stay at the laptop and work it out. My mantra in those times is: a bad sentence is better than no sentence. It's corollary is, paraphrasing Ayn Rand: You can't revise a sentence you haven't written.
So write! Even if it's bad.
I so agree. You can't edit what you haven't written!
What's on your TBR Table?
So many books! Both in my shelves and in my Kindle.
I'm currently reading Ann Tatlock's I'll Watch the Moon which is terrific. I love Ann's lyrical writing.
Next up: Midnight on the Mississippi by Mary Ellis and The Silver Star by Jeanette Walls.
What piece of advice would you give to a new writer?
Three things:
Attend writing conferences.
Find competent critique partners.
Enter reputable contests for the feedback.
Great advice!
Do you have another project in the works? If so, what is it?
 I'm preparing for the January release of my first contemporary romance, Where She Belongs (Misty Willow Series) and putting the finishing touches to the manuscript for the second book.
Before starting the third book in the series, I'm headed to 1870s Nebraska to write a novella for Barbour's Courageous Brides Collection which releases next July.
I can't wait to read all three of these books!
How can people contact you?
Facebook Profile (Friend or Follow!)
Facebook Author Page
Johnnie is giving away a copy of Where Treasure Hides–print copy for Continental USA and an e-copy everywhere else. Enter through the Rafflecopter below.