Welcome back to my blog. My time hasn't gotten any longer so, from now until I turn in the second Cold Case book, I'm only going to post these mysteries. 🙂
To recap last week's mystery:
Have you ever picked up something at a yard sale and wondered if it might be valuable? Or maybe you have a pitcher that your aunt gave your years ago and she said one day it would be worth a lot of money?
A couple went to a yard sale and found among other things a small but pretty white bowl. They bought it for $3 and took it home and put it on their mantle. Years later, they began to wonder about it because it did look old, so they had it appraised.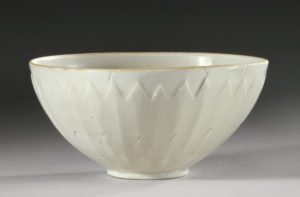 It dated back to 1778 and was worth $40,000.

It dated back to 1914, but was made by George Ohr and was worth $100,000.

It dated back to the 10th Century and the Song Dynasty and brought over $2 million dollars.

It was a pretty bowl made in the 1940s, but only worth $50.
AND THE ANSWER IS….#3! Here's the link to read more about it.
Now for this week's Mystery Question: Who Did It?
A woman living in New Jersey vanished in 1991 and was reported missing after she did not report to work for several days. Police learned that she was going to be evicted from her apartment, and the possibility emerged that she left on her own accord.
Her family did not believe this, however. Her car was found in the parking lot of the apartment complex, and she had left her cat by herself, leading to the possibility that she may have been abducted and murdered, especially after a neighbor reported hearing a scream come from her room.
Then a woman came forward that she believed the woman had come to her bar a week after she was reported missing. It seemed possible that she may have been abducted by bikers and that she was at the bar with them. A year later, the same woman that was seen at the bar was seen again, but soon vanished again.
So what happened to the woman?
She was eventually found living in California. When asked why she didn't contact her family, she reported they had a falling out and she didn't want them to know where she was.

Bikers kidnapped her and kept her prisoner for five years before she escaped. After she escaped she didn't contact her family for fear her brother, who was a member of the motorcycle gang, would tell the bikers where she was.

A maintenance man at her complex broke into her apartment and smothered her with a pillow then dumped her remains in a remote area in New Jersey.

She witnessed a murder and after telling the police all she knew they put her in the WITSEC Program ((The Witness Security Program) under the jurisdiction of the U. S. Marshalls.
Okay, readers, which one is it?
Oh, and the winner of The Gingerbread Pony is: JOY! And she even got the right answer!