Before anyone becomes alarmed, it was only foot surgery.
What do you mean, only foot surgery? And is that the ceiling?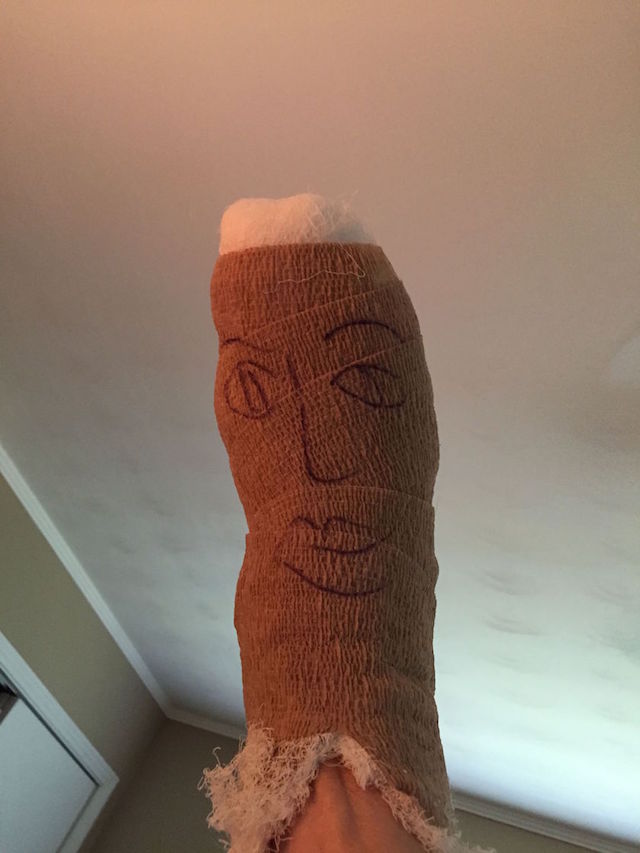 I didn't mean to imply foot surgery is minor, but in comparison to heart surgery, it is. And yes, that's the ceiling. Since I had to lay flat of my back with my leg elevated for 48 hours, it was the only way I could get a picture of the cute face the doctor drew on the bandage. 😉
Anyway, back to the title of this post. What I learned. I think I'll do bullets since that's what I've been biting lately.
When  doctors say this won't hurt much, they've never had foot surgery. 

When doctors say you have to lay flat of your back for 48 hours, they actually mean 60 hours. 

When a doctor prescribes pain medication in doses of 1 tablet every 6 hours…well, see bullet #1. The prescription didn't last the 48 hours.

I don't care what the doctor says, it hurts to resplint the toe.

I bet it'll hurt when the pin comes out, too. Did you know they don't put you to sleep to do that?

It's impossible to redress the foot once the bandage is off. I should know–I tried it today and ended up back in the doctor's office…where she wanted to take the stitches out. Early. 

You can talk a doctor out of taking out the stitches.
I expect to be back to normal, whatever that is, in a couple of weeks. Thanks for stopping in, and I'd love to know if you've ever had an operation where the recuperation wasn't quite what you expected. Leave me a comment, letting me know, and I'll enter you in a drawing for a $10 Amazon gift card or a $10 iTunes gift card…or a copy of Shadows of the Past–The winner's choice. Follow my blog or newsletter and it will earn you more entries.  Drawing will end next Monday night.
Oh! Wait…I think I'll use Rafflecopter! That way there won't be any mistakes!
But first, here are the 5 winners of the Christmas anthology, A Heartwarming Christmas which will be sent via email when it releases:
Karen
Kathryn Albright
Cynthia A. Lovely
Flichen1
Nicole Pyo
And the winner of Rebecca DeMarino's To Capture Her Heart is: Bonnie Engstrom
a Rafflecopter giveaway