Do you believe Punxsutawney Phil can predict when Spring will arrive? This year I'd like the groundhog to be right…remember last year?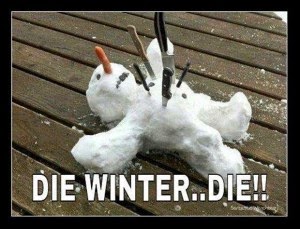 Brrr!
Yesterday I took a walk around my block. You see, I just got my Fitbit and I only had 4,000 steps at two o'clock. My goal is 10,000 a day. Haven't met it yet, but I will. That I could actually walk around my block is an  indication of how this post is going. 🙂 It was 50 degrees and not much wind.
Just as I turned the corner and walked over a small hill, this is what I saw.
Then I walked a little farther and my heart lifted when I saw this. Whoo-Hoo! By the time, I returned I had found lots of evidence that Spring would be early this year. At least I hope so.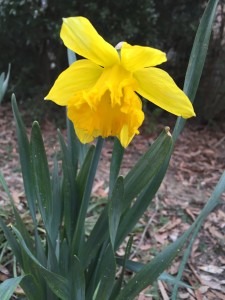 When I was young, I had an uncle who swore his big toe told him when a storm was coming and when we'd have an early Spring.
How about you? Do you go by weather prognosticators or do you listen to your uncle's big toe?
And what do you call the yellow flower to your right? All my life I've called them Buttercups, but evidently they're only called that in the South. They're called daffodils everywhere else.
The winner of a print copy of The Gingerbread Pony is: Carolyn!
And the winner of Lynette Eason's book is: Traci!