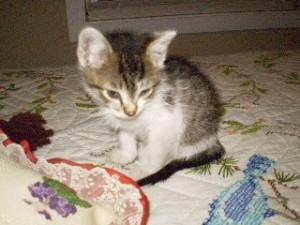 This post first appeared on the MBT Ponderers Blog July 15, 2010
Summertime in Mississippi means hot temperatures and air so thick you can stir it with a spoon. Last Friday was no exception. By ten a.m., you could fry sausage on the sidewalk. Ignoring the heat, I drove to the local Dollar General to buy a couple of birthday cards.
I left with a kitten.
The.kitten.I'm.not.keeping.
I'd heard the loud mews when I entered the store, but couldn't locate the source. Still heard the mews when I came out and got into my car, but again, didn't see anything that resembled a kitten. Not that I tried very hard.
When I pulled out into the street, for some odd reason I glanced back at the store. And right where my car had been parked squatted a pitiful, black and white kitten struggling to get to its feet. My heart sank. The temperature on the pavement had to be at least 110 degrees.
I turned around and went back, found a box and took the kitten home. To die, I thought. But at least it wouldn't be on a hot parking lot. By mid-afternoon both of the kitten's eyes had swollen shut. She wouldn't eat or drink so I fed her soy milk and water with a dropper. I didn't expect her to be alive when I awoke the next morning.
She surprised me. She even had one eye opened. I posted the kitten's story to the Ponderers–my writing friends and the other contributors on this blog. Immediately a cry went up to name her. Something with Ponder in it and of course, Susie May…
Noooo! I can't name this.kitten.I'm.not.keeping..
By afternoon she even drank a little soy milk from a saucer. She seemed most comfortable when I held her. So, I held her, and she wrapped her paws around my wrist. And I prayed for this little creature God had created. Bit by bit, she improved and wrapped her little paws around my heart.
This morning as I talked with God, I asked Him why He put this kitten in my life. He knows I travel a lot, and I'm too busy for a cat. His answer came immediately. Joy. I gave her to you that you may have joy.
May Ponder (named after Susan May Warren and the Ponderers) will be called Mazie, because as Susie May says, "Every heroine needs a nickname." Mazie is also short for Amazing Grace-it's the only reason she's here.
P. S. It is now almost 2 years later. Mazie turned out to be a boy, but the name stuck (Kinda like A Boy Named Sue) And here's a recent photo of him.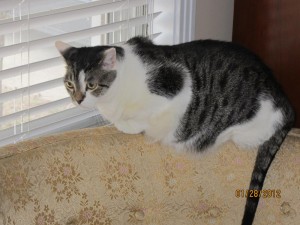 You know this story is going to end up in a book, don't you?
Have you ever started out with one mind-set and ended up with a totally different one? Leave a comment, telling me your story.