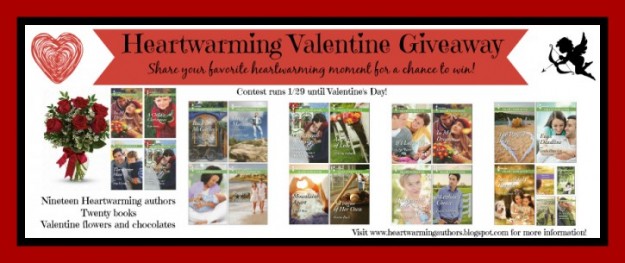 Twelve authors at Harlequin Heartwarming got together and decided to celebrate Valentine's Day! And we are giving away 12 book and a grand prize of a dozen roses. Click
here
to see the books and register.
First, we have some new titles and some old. This prize contains:
Back to McGuffey's by Liz Flaherty
Once a Marine by Loree Lough
After the Silence by Rula Sinara
Return to Pelican Inn by Dana Mentink
All four of these are sure to provide you with hours of reading enjoyment!
Next up, we have a foursome that's sure to melt your heart.
Christmas, Actually by Anna Adams, Anna J. Stewart, and Melinda Curtis
An Act of Love by Marion Ekholm
Mountains Apart by Carol Ross
A League of Her Own by Karen Rock
These four stories have unforgettable love stories we don't want you to miss!
Another wonderful group with some of the most beautiful covers here at Heartwarming are part of Prize Pack #3. My own book, Matthew's Choice is in this group!!
If I Loved You by Leigh Riker
In My Dreams by Muriel Jensen
Honeysuckle Bride by Tara Randel
Matthew's Choice by Patricia Bradley
The words inside are just as pretty as the pictures on the outside!
Here's a fun group! These spectacular ladies never disappoint.
The Parent Trap by Lee McKenzie
Eva's Deadline by Linda Hope Lee
An Unlikely Rancher by Rox Denny Fox
And as a special treat to the winner of this prize, Melinda Curtis is offering up any one of her novels in the Harmony Valley series including her upcoming March release, One Perfect Year!
Lastly, we have a special Grand Prize, sure to warm the heart of any lovely lady on Valentine's Day. The Heartwarming authors want to send you a bouquet of roses along with these pull-at-your-heartstrings reads: In My Dreams by Muriel Jensen, A Child's Christmas by Kate James, The Better Man by Amy Vastine, and Christmas, Actually by Anna Adams, Anna J. Stewart, and Melinda Curtis.
Click here to enter! Then scroll down because I haven't learned to embed Rafflecopter in my blog yet! 🙂