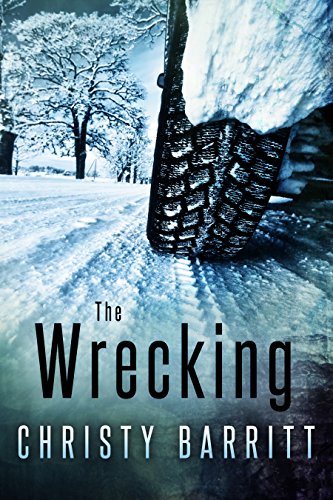 Oh, wow. I've read two edge-of-your-seat books this week!! The first one is Nancy Mehl's Dark Deception and the second one is Christy Barritt's The Wrecking.
Let me tell you about Nancy's book first.
I loved Fatal Frost and had been looking forward to reading Dark Deception. I was not disappointed.
Here's the back cover copy:
Kate O'Brien's quiet life in small-town Shelter Cove, Arkansas is shaken when her past suddenly comes roaring back to life. Four years ago, she and her twin sister were attacked by an elusive serial killer. Only Kate survived, and she's been in witness protection ever since.
When new evidence arises to suggest the convicted man wasn't the murderer, she's subpoenaed to testify in the new trial. Afraid to go back into that world, Kate only agrees if Tony DeLuca, the deputy Marshal who protected her during the original trial, escorts her to St. Louis.
Tony readily takes on the assignment; Kate's beauty and inner strength made more of an impression on him than he expected. But when Kate's safety is threatened, Tony must race against the clock to keep her alive and put this ugly case to rest before anyone else gets killed.
Nancy Mehl did a superb job of keeping me in suspense until the very end. Kate was such a strong character even though she didn't always realize it, but I as the reader could definitely see her strength. And Tony. He is truly swoon-worthy and he has trouble keeping Kate in the I-need-to-keep-her-safe part of his brain. She kept creeping into his I-could-love-this-woman thoughts.
And when evidence surfaces that the man she identified as the Blue-Eyed Killer is not BEK, her world turns upside down. The mystery was great and there were some great twists in the story that I can't tell you about, but trust me, you will not easily guess the killer. I'm looking forward to the next book in the series!
Dark Deception can be purchased at Amazon, B&N, and CBD!
And now for The Wrecking by Christy Barritt. This story is the second novella in The Kill Zone: Ted Deadly Thrillers. It is also available for $.99 as a stand-alone novella on Amazon. Here's the back cover copy:
The only survivor of a vicious serial killer's rampage, Samantha White has fought her way back to some semblance of normalcy.
The killer, dubbed the Grim Wrecker by the media, has gone dormant, taking no new victims and leaving the FBI cold on his trail.
But now he's back, and he's pleading with Samantha to help him stop before he kills another woman.
Samantha is being sucked back to that horrible time and recalling buried memories that chill her to the marrow of her bones. Can she help the FBI stop the Grim Wrecker before he kills again, or will Samantha become a victim . . . again?
Another edge-of-your-seat story! I started The Wrecking Ball last night about nine and did not put my Kindle down until I read The End…around midnight. I had to know how the story turned out and whether Samantha ever remembered the one piece of evidence that would identify the killer. I also had to know why after killing seven other women, he let Samantha go.
The hero, FBI agent Daniel Quinn was a great hero, taking up for Samantha when Frost, the other FBI agent seemed to think she knew more than she was telling. I loved the way Barritt wove these characters threads together.
What are you reading this week? Leave a comment to be entered in a drawing for one of the books discussed on Reader Friday!