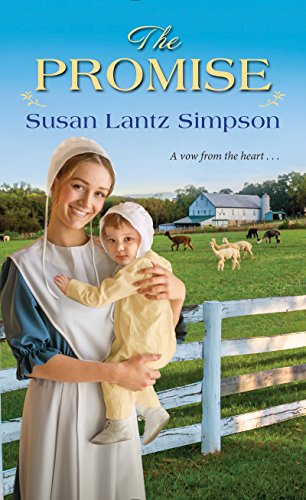 Welcome back to the first Reader Friday of 2018! This past week I've read two books and The Promise by Susan Lantz Simpson is one of them and the one I'm talking about today. The other is Pam Hillman's Promise of Breeze Hill. I'll tell you what I think of it next week.
I don't usually read Amish fiction, but I love to knit with Alpaca yarn and the story has Alpacas in it, so voila. Once I started reading, Susan Lantz Simpson's writing quickly drew me into the story. And I fell in love with Phoebe and Benjamin and all of Phoebe's family. The Promise was a wonderful and uplifting story.
When Phoebe Yoder's baby sister was kidnapped, I felt Phoebe's fear and guilt. And I understood why she uttered a vow to God that she shouldn't have. I struggled along with her as she wrestled with this vow. Phoebe's spunk made me chuckle at times, especially in her interactions with the man who pursued her.
And Benjamin Miller. He is a swoon-worthy hero. I love the way Simpson worked the alpacas into the story, and it was fascinating to read about the Amish way of life.
Whether you like Amish fiction or not, if you love a good story, then you'll enjoy The Promise.
Blurb
Like most Amish young women, Phoebe Yoder has dreams—but not of a courtship—at least not yet. She dreams of caring for the tender-hearted alpacas at her Englischer neighbor's farm, and learning the business herself. But that longing falls away the moment her baby sister goes missing. In that horrifying instant, desperate for her sister's safe return, she whispers a promise to Gott: she will give up her dreams and marry Micah Graber, a man she doesn't love, but who is determined to make her his wife.
Benjamin Miller hasn't been back in Southern Maryland for long before he meets Phoebe and begins to imagine what a fine life they could build together—beginning with an alpaca farm of their own. But he can see that Phoebe's brash vow is all she will consider, no matter what her heart wants. As Ben falls for her gentle manner and sweet, sad eyes, he comes to understand his daunting task: to convince Phoebe that together, they can make a new promise that will never be broken . . .
Do you read Amish fiction? Leave your answer in the comment section and I'll enter you in a drawing for a gently-used book from my library.