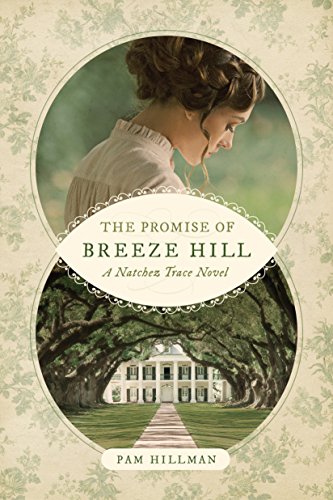 Did you know it was hard to find time to read when you're finishing a manuscript? I'm a little past 80,000 words and about to type The End… well, not really. I've finished the first draft and it's mostly good words, but now I have 19 days to polish and add another 10,000 words. 🙂
Today I want to tell you about a book I read last month. I don't usually read historicals but this one had a mystery and was about the Natchez Trace. That combination. along with the author being Pam Hillman, will tempt me anytime. And isn't that a beautiful cover!
Here's the back cover copy:
The Promise of Breeze Hill
 Natchez, MS; 1791
Anxious for his brothers to join him on the rugged frontier along the Mississippi River, Connor O'Shea has no choice but to indenture himself as a carpenter in exchange for their passage from Ireland. But when he's sold to Isabella Bartholomew of Breeze Hill Plantation, Connor fears he'll repeat past mistakes and vows not to be tempted by the lovely lady.
The responsibilities of running Breeze Hill have fallen on Isabella's shoulders after her brother was found dead in the swamps along the Natchez Trace and a suspicious fire devastated their crops, almost destroyed their home, and left her father seriously injured. Even with Connor's help, Isabella fears she'll lose her family's plantation. Despite her growing feelings for the handsome Irish carpenter, she seriously considers accepting her wealthy and influential neighbor's proposal of marriage.
Soon, though, Connor realizes someone is out to eliminate the Bartholomew family. Can he set aside his own feelings to keep Isabella safe?
My take on the story:
Conner's Irish brogue drew me in with the first sentence! He is a swoon-worthy hero–strong, honorable and his own man. Something he needed when he indentured himself to Miss Isabella Bartholomew of Breeze Hill Plantation so that he could bring his brothers over from Ireland. She is headstrong and he is stubborn, but when the outside forces from a den of thieves on the Natchez Trace threatened Breeze Hill, their differences were put aside and they worked together against the evil forces.
The Promise of Breeze Hill offers a nice mystery, a family you will care about, plenty of villains–and you're not certain just who's who, and a look at Mississippi history in the late 1700s.
Leave a comment and I'll enter you in a drawing for one of the books in my library (including this one). How do you feel about historicals?