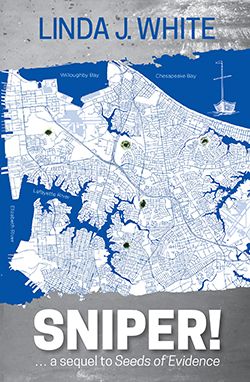 This week I read Linda J. White's book, SNIPER, and I had to make myself put it down so I could get some sleep. Just imagine a sniper in your community killing people randomly.
Linda's husband, Larry, was a video producer/director at the FBI Academy for over 27 years, and he took Linda to the office so she could get a feel for the organization. And Dru Wells, retired FBI agent, provided many of the details of the inner workings of the FBI.
Here's the back cover copy:
Shocked by the murder of a friend, FBI Special Agent Kit McGovern vows to bring the killer to justice. Then the shooter kills again, and again … and again.
Saddled with an unpredictable partner, forced to put her personal life on hold, Kit doggedly pursues the sniper. Quantico sends a geographic profiler to help identify him, but the killing of a young woman outside the probability zone casts doubt on that technique. As panic grips the Hampton Roads area, pressure mounts, and Kit soon finds herself in the crosshairs of failure—and death.
My review: My attention was captured from the first page when the sniper killed his first victim. It was fascinating reading how Kit McGovern and her team pulled together a profile of the killer and then went after him. And David O'Connor was a perfect hero, always concerned about Kit. And the romance was sweet, although a time or two I wanted to shake Kit and say, what are you doing? This man is perfect for you!
SNIPER is a page-turner. Linda was a new-to-me author, but not any longer. I have her other books on my TBR short list! And if you like fast-paced action and suspense, you will enjoy SNIPER.
Last month's winner of a book from my library was chosen by Random.org and is: Edward Arrington!
Have you read one of Linda's books? If not, do you like discovering new authors on posts like this?  Leave a comment and I'll enter you in a $10 Amazon gift card (hopefully for you to buy a book ;-)) at the end of the month.