This week I've started a class on writing cozies by Melissa Bourbon so I may be featuring cozies this month. 😉 In case you don't know, I plan to write a cozy murder mystery set on a modern day paddle wheeler on the Mississippi.
And what is a cozy, you ask? It's a Murder, She Wrote type of story, usually set in a closed community like a small town, but not always, with an amateur sleuth. My story may end up being more of a plain mystery…that's why I'm taking the course–to see if it fits a cozy definition and if not, how to make it.
Anywho, this week's book, Murder is No Accident written by A. H. Gabhart, is not exactly a cozy since the hero is a deputy sheriff. But it fits all the other qualifications, so I'll leave it up to you to decide. Here's the back cover blurb:
Youn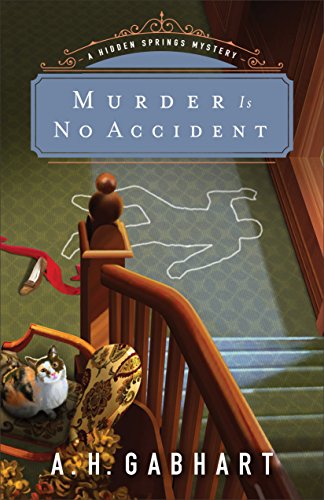 g Maggie Greene may be trespassing in the old, empty Victorian mansion on a quiet street in Hidden Springs, but all she wants is some private time in the magnificent tower room to write her stories. Certain she'll be in trouble if caught, she hides when a realtor shows up. But someone else is in the house too, someone even more worried about getting caught. When Maggie finds the realtor's body at the bottom of a flight of stairs and the other person gone, Deputy Sheriff Michael Keane is called in. He assumes the realtor's death is a tragic accident–until a second person is found dead in the house. When Maggie is threatened, Michael must catch the murderer before anyone else dies.
Cozy mystery fans will love this third installment in The Hidden Springs Mysteries series from an author who knows how to make small-town America sweet, sentimental–and a little sinister.
I loved this book and hated to find out it was the last one in the series. But at least I still have the other two to read.
Hidden Springs is a town I would love to live in. Oh, wait. I do live in a town similar to it. I think that's one of the reasons I enjoyed this book so much. Micheal Keane was the perfect hero and I really wanted him and Alex to get together. But the romance didn't get in the way of the mystery. Two bodies, the first maybe an accident, but the second definitely murder. And a teenage girl who is at the wrong place hears something she shouldn't have.
The story was full of twists and turns with rich characters and a great setting. It's a story you won't be able to put down! And I like it so much, I'm not sure I can give it away. lol But I will if the winner of August's drawing wants it. Or one of the other books reviewed in July and August. Just leave a comment, answering this question:
What are you reading this month? Oh, before I forget! Sally Shupe is the winner of July's drawing for Sandra Orchard's Over Maya Dead Body!