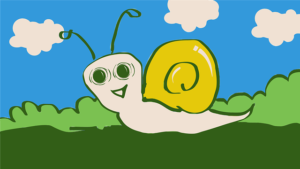 Last weekend our small town had a Slugburger Festival. We had things like music, amusement park rides, and an eating contest where more than a hundred and fifty people gathered around the tables during the ten-minute competition to see who could eat the most slugburgers.
Now, you may be wondering just what a slugburger is, and that is the Mystery Question of the week. I will write more on our little festival next week. But for now, here is a clue…maybe. The image to the left is similar to the logo for the festival.
So, Super Sleuths, without Googling the answer, what is a slugburger?
A sandwich made with Angus beef and grilled over charcoal with snail shells added.
A sandwich made with soy meal, pork and beef fat and deep fried.
A sandwich made with snails, meal and flour and deep fried.
A sandwich made with tofu, beef bouillon, and flour and grilled over hot coals.
Okay, Mystery Sleuths, what's the correct answer? Leave your answer in the comments section to be entered in this month's book from my personal library drawing.
Now for last week's Mystery Question: What is the true outcome of the missing baby?
The mother was cleaning a neighbor's house and found a shoebox in the closet with her baby's blanket and teddy bear along with a newspaper clipping of the fire.
A neighbor's surveillance camera revealed a man running out the back door with the baby in his arms just before the fire started. When his photo was shown on TV, someone recognized him and turned him in and police arrested him before he could sell the baby.
The mother attended the birthday party of a friend and thought one of the kids at the party looked like her other two children and pretended to get chewing gum from her hair while she snipped a strand of hair. DNA revealed the child was indeed her baby and had been kidnapped before the fire was set.
The mother sold her baby to a couple because she couldn't afford to feed him and the other two children. It was seven years before a determined detective who didn't buy the story that the baby died in the fire got to the bottom of the case solved it.
And I'm happy to report the correct answer is #3. Quite a few of you got the correct answer. 🙂
The mother never believed her baby died in the fire. She kept looking for her everywhere she went. You can read more of the story here.
One of the biggest problems with the case was that the parents only spoke Spanish and did not communicate with the detectives well. The mother kept telling them she believed her daughter had been kidnapped. You can read about that here.
Okay, Super Sleuths, don't forget to leave a comment to be entered in the drawing at the end of the month.