Breathing a sigh of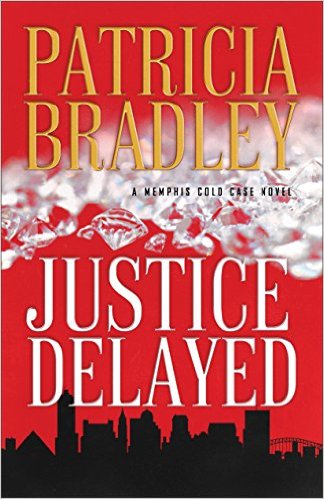 relief. Just mailed edits for the first Memphis Cold Case Novel–Justice Delayed! And I noticed when I typed "mailed", autocorrect wants to change it to email. 🙂 No, autocorrect, there are some things that still have to be snail mailed.
As I went through the edits, I was really pleased with the book…just hope you readers are. In case I haven't told you, Justice Delayed is about a murder eighteen years ago. The suspect was convicted and sentenced to death and his execution date is four days away when he receives a letter stating he didn't commit the murder and the writer has proof. Then the letter disappears and the writer is murdered….
You can preorder at Amazon, B&N, CBD, Books a Million.
Now for last week's Mystery Question:
The arresting officer checked his Facebook page and discovered the man had used his wanted poster for his Facebook profile.

When the police arrived, the man started denying that he had any outstanding warrants in another county even before he was asked any questions.

He had his wanted poster framed and hanging on his living room wall.

When the police arrived, the man falsely implicated his girlfriend in a robbery and she turned on him and informed the police of the outstanding warrants.
Drum roll, please!!!! And the answer is #1. I just can't understand how criminals can be so dumb!
And now for this week's Mystery Question from the pages of the Police Blotter:
One of the following police reports is not true. Which one is it? Is it:
A woman reported her water line runs through the neighbor's property. She thinks they have tapped into her line because her bill has been high for more than a year. When the neighbors were gone for about 6 weeks, her water bill returned to normal.

A man reported a 21-year-old former female friend continues to call and text, even after being told to stop. He's blocked her number but she has been using an app to get around it. She's  called at least 150 times in the last 48 hours and claims she will do harm to herself if he does not respond.

A 72-year-old man said a 36-year-old female friend came over to visit for a couple of hours. When she left, she took his checkbook.

A woman reported she has a video of her neighbor sneaking into her hen house and stealing the eggs. She claims this has been going on for three weeks and that he had the nerve to bring her a cake baked with the eggs.
So Mystery Solvers, which is the correct answer? Leave a comment with your guess and we'll see next week. Until then, would you mind clicking the tweet so others can guess?