From sunny Cozumel to snow in Mississippi! Yes, I woke up to a light covering of snow on my front yard this morning. And I know my friends up North are laughing that I would even get excited about such a light dusting. But, hey! We don't get snow that often here. 🙂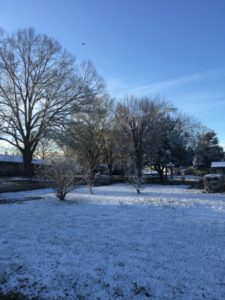 This is my favorite kind of snow…except I didn't get to see it coming down! This isn't the latest we've gotten snow, though. In 1968, on the twenty-first day of March, the first day of Spring, North Mississippi received 14 inches of snow. It was a-maz-ing! Of course, it ruined all the azaleas that had just opened their blooms and we didn't have any apples or peaches that year.
Now on to last week's Mystery Question:
A jailhouse snitch provided a recording of a confession by one of the inmates, detailing the crime.
A man could no longer live with the crime after he was diagnosed with cancer and confessed.
When the water level of a nearby creek dropped their vehicle was found with the two women inside. Not a murder after all.
A police detective took up the cold case and when he dug deep into the case, he discovered the ex-husband of one of the women had stolen his ex-wife's credit card and used it after she disappeared. When confronted with the evidence, he confessed.
And almost everyone got this one right! It was #3. It wasn't a crime at all. I still don't see how someone didn't see the car in all these years, but I'm glad the family has closure.
Now for this week's Mystery Question:
I'm doing something different this week. Below are listed four crimes. Three of them actually happened. One did not. Can you guess which one is the red herring? (or not true)
A man kidnapped a motorist and forced him to drive to two different automated teller machines. The kidnapper then proceeded to withdraw money from his own bank accounts.
A man walked into a bank and handed the teller a stick-up note demanding all her cash. Unfortunately for him, he'd written the note on the back of his business card with his contact information.
A 19-year-old man robbed a Dairy Mart convenience store by threatening the clerk with an 8-inch butcher knife. Problem is, the clerk knew his identity, since he was employed at the Subway right next door.
A man robbed the same 7-Eleven store twice in one day. He told the clerk during the second robbery that he'd be back in a few hours to rob it a third time. Sure enough, he returned a few hours later and was arrested by detectives still in the store investigating the first and second robberies.
Okay, Super Sleuths, which scenario is the incorrect one? Leave your answer in the comments and be entered in a drawing for an adult coloring book. And I'd love a tweet!