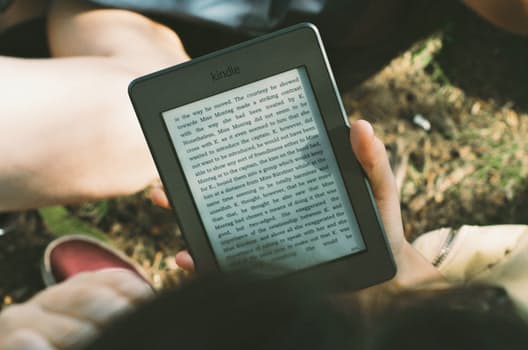 Did you know the Kindle turns ten years old this year? After I read this, I tried to remember when I got my first Kindle and realize I don't have to wonder–I can check my Amazon account. As an aside, is Amazon smart or what? Pre-Kindle I didn't have an Amazon account, but I opened one as soon as I got my first Kindle. 😉
When I checked, I discovered I bought my first e-book December 24, 2010. That's not surprising since I received the Kindle as a Christmas gift. I also received a Nook from my daughter and it was a hard choice to decide which one to keep. But since I had already opened the Kindle and bought a book, I kept it. And my daughter got to keep the Nook. 🙂
Since that first book (which was Love on a Dime by Cara Lynn James) I've bought 390 books on that Kindle. I have an additional 341 books on another, newer Kindle. So that means I have 731 books altogether. How many of them have I read? That, I'm not sure of, but I figure at least half of them. And someday, I hope to read all of them.
So I guess you've figured out I'm fond of my Kindle. It's not that I don't like print books–I do and I still buy print books, but there is no way I could house 731 books! And that's what I like about owning an e-reader. That and being able to make the print bigger!
This week I want to pose another question along with the Mystery Question. What's your preference? Print book or e-reader?
Now on to the Mystery Question from last week. Which response did I make up?
"Whoops, that's the fake one… here you go; this is the real one."
"Would you hold my gun so I can get my license out?"
"What? You need a license to drive?"
"What's wrong, Ossifer? I swear to drunk I'm not! And really, there is no blood in my alcohol."
And the answer is…#2. Congrats Delores and Trixi for getting it right!
Now for a new set of reports from the Police Blotter: One is FALSE, the rest, unfortunately, are true.
12:42 a.m. 200 block of Howard Street. A man reported someone used his password and hacked into his Farmville account on Facebook and as a result, he lost a year's worth of work and all his crops.
A resident of the 100 block of Beck Mill Road reported her car was stolen. The car was found on her lot, but she hadn't recognized it with snow on it.
A man called the police to report that he suspected the marijuana his friend sold him was "laced with something" and he had felt crazy ever since smoking it. He wanted to see a doctor.
A man called to report that someone had stolen the saddle on his horse while he was inside a bar drinking. The horse was not stolen.
Okay, Mystery Sleuths, which is the report I made up? Leave your comments and be entered in a drawing for a copy of Susan May Warren's Wild Montana Skies (or another book from my personal library if you've read it)