Last week I mentioned in a comment that I'd been to a training on human trafficking and some of you wanted to know more about what I learned. I thought I'd give a brief overview of what human trafficking is and how it affects us. The following is not for the faint of heart, but it's something we can no longer ignore. I learned that it has come to my small town of 15,000, and if it can come to my town, it can come to yours.
Human trafficking comes in two forms: (1). Sex Slavery (forced prostitution) (2). Labor Slavery (working long hours for little or no pay).
Human trafficking is a $6,000,000,000 plus industry. Yes, that's 9 zeroes. The average entry age into prostitution in America is 12-14 years old. There are between 100,000 to 300,000 children prostituted annually, and I-10 is the favorite corridor used to move them from one place to another. Most of the Johns (clients) do not care that the girls are underage.
And how are a lot of these girls sold? The Internet. For a long time, Craig's List was the favorite site, but now Backpage is #1 since Craig's List shut down their "escort" page. To learn more check out the Advocate for Freedom website.
Here in our area, we're looking for a place to house girls who have been rescued from human trafficking, but housing is only the beginning. The girls have been drugged and getting them off the drugs is the first obstacle. We'll need counselors, house mothers, and retraining since most only know prostitution as a way of life.
It's a very difficult and painful subject to wrap your mind around. But talking about human trafficking–making people aware of it–is the first step to doing something about it.
And now for last week's Mystery Question. One of the following statements given to a policeman is FALSE. Unfortunately, three of them were actually spoken to police officers…
"Would you hold my beer while I look for my license?"
"Can you come back in five minutes? I'm in the middle of a telephone conversation."
"There's no way I was going 85. I had the cruise set at 80."
"Look, Officer, I've been wearing this girdle all day and I was trying to get home and get out of it."
And the answer is: #4. Several of you guess correctly! 🙂 And the winner of the $10 Amazon gift card is…Lisa!
Now for this week's Mystery Question.
"Whoops, that's the fake one… here you go; this is the real one."
"Would you hold my gun so I can get my license out?"
"What? You need a license to drive?"
"What's wrong, Ossifer? I swear to drunk I'm not! And really, there is no blood in my alcohol."
So Mystery Sleuths, which is the FALSE answer? Leave a comment and be entered in this months drawing. It will be for a copy of Susan May Warren's Wild Montana Skies!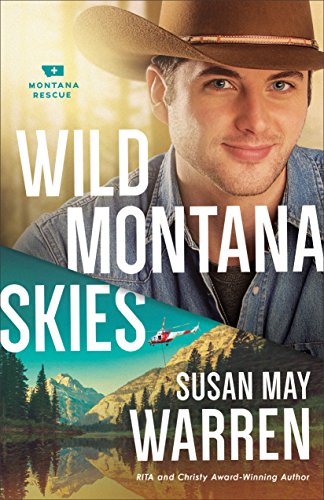 Here's the back cover blurb for Wild Montana Skies:
Search and rescue pilot Kacey Fairing is home on leave in Mercy Falls, Montana, twelve years after she joined the military to escape the mistakes of her past. With a job waiting for her as the new lead pilot of Peak Rescue in Glacier National Park, Kacey hopes to reconnect with the now-teenage daughter she sees only between deployments. What she doesn't realize is that someone else is also back in town.
Ben King has been building his country music career since the day Kacey shut him out of her life. Now all of that's on hold when his injured father calls him home to help run Peak Rescue until he's fully recovered. It doesn't take long, though, to discover his father's ulterior motives as Kacey Fairing walks into the house and back into his heart.
With Mercy Falls in a state of emergency due to flash floods, Kacey and Ben are forced to work together to save lives. But when floodwaters turn personal, can they put aside the past to save their future?