When you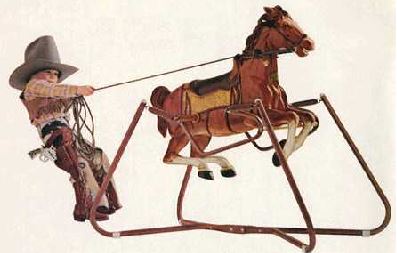 were a child, what did you want to be?
I wanted to be a cowboy. Every year when the Sears and Roebuck toy catalog arrived, I spent hours pouring over the pages lined with cowboy boots and fringed jackets and toy cap pistols. And the hat–don't forget the hat!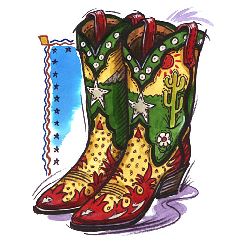 I didn't spend much time in the BB gun section because my mom wouldn't entertain the first thought of a BB gun. She could just see me doing major damage with one.
And when Christmas came, I wore those boots and double holster cap guns proudly. In my imagination, I fought outlaws and rustlers. And not just in my imagination. I spent hours outside pretending to capture the bad guys. Probably one reason my mom enthusiastically bought my heart's desires–I was out of her hair for most of the day.
Not one time Had to correct what I was going to write. Only one time in my life did I ask for a doll. And when I got her, I didn't know what to do with her. I didn't know you were supposed to have tea parties and that sort of thing with dolls. Never owned a Barbie. Although I did play with paper dolls –Roy Roger and Dale Evans paper dolls. 🙂
So, what happened to those dreams? Why didn't I become a cowboy, or since I like capturing the bad guys, why didn't I become a sheriff or police officer? In a way I did, and that's one thing I really like about being a writer. I get to be anything I want to be! Check out my Logan Point and Cedar Grove series–I write about sheriffs, and doctors, and missionaries, and writers, and politicians…
How about you? What did you want to be when you were a child? How close did you come to being that? Leave a comment to be entered in a drawing for my Christmas Heartwarming book, The Christmas Campaign that releases November 1. Print copy only for USA addresses. Other will be eligible for an e-copy. Contest ends Monday, September 7, 2015, at 7 p.m.
P.S. Kim Hansen-Amundsen was the winner of Johnnie Alexander's Where Treasure Hides!