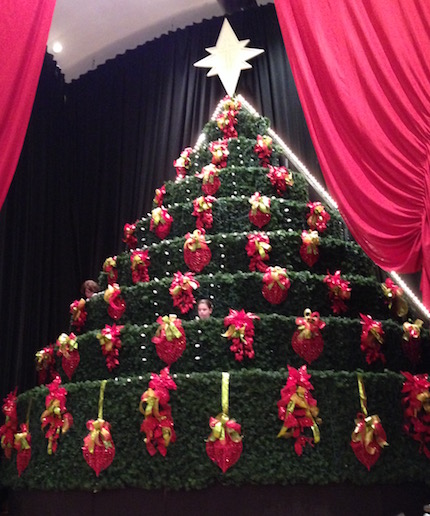 With Christmas almost upon us…okay so it's only the 8th…but it seems like it's coming at warp speed. And I'm not ready! This year I am in the middle of a January 18th deadline that sneaked up on me.
You might ask how that could happen. With me, it isn't hard. But this year it really wasn't my fault. Not entirely. By May 1st, I had written 220,000 words, working on two books, one of them a Christmas story. Then, I joined eleven of my Harlequin Heartwarming authors, and we wrote A Heartwarming Christmas.
I've been enjoying Christmas all year!
Here's a photo taken last year as I worked on the Singing Christmas Tree at my church. I really missed not getting to help this year.  And no, I did not sing. Think Barney Fife. 🙂
I'll post more photos next week from the Singing Christmas Tree–it's this weekend.
For the rest of the year, I'll mostly be posting short blogs and a scripture verse. I really appreciate your visits!
Oh, and last week's winner of Delores Topliff's book, Whoosh,  is Faith Gerber.
The Birth of Jesus:
Luke 2: 1-5
 In those days Caesar Augustus issued a decree that a census should be taken of the entire Roman world.  (This was the first census that took place while Quirinius was governor of Syria.) 3 And everyone went to their own town to register.
So Joseph also went up from the town of Nazareth in Galilee to Judea, to Bethlehem the town of David, because he belonged to the house and line of David. 5 He went there to register with Mary, who was pledged to be married to him and was expecting a child.
What is your favorite Christmas story?