Sandra Orchard's July Love Inspired Suspense (in stores now!) is a Romantic Times Book Reviews Top Pick and I'm excited to have her heroine, paramedic Sherri Steele, with me today to answer a few questions.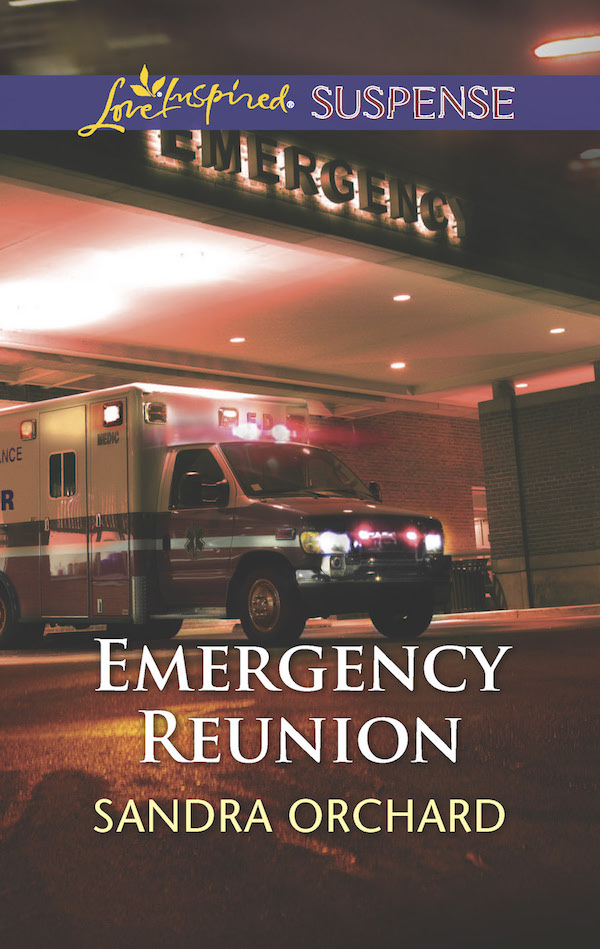 Tell us a little about yourself and how you came to be in the midst of such suspense. 
My name is Sherri Steele. You may have met my cousins, firefighter Jake Steele, and former FBI agent turned Sheriff's Deputy Sam Steele, in previous stories. I'm the youngest paramedic on Stalwart's EMT staff and the only female, which along with getting my very first partner fired for working under the influence, and failing to save the life of my second partner at an emergency-call-turned-deadly, has left me with a lot to prove and more enemies than friends. One or more of those enemies seems determined to convince me to quit, or worse, kill me, and I'm equally determined to not give him the satisfaction of succeeding. I only need a few more weeks of work to qualify for the newest flight medic position. And I'm sure if I can hold out that long, all this will settle down once I'm no longer working out of the same base.
I understand that you've known Cole Donovan since you were a child.  Tell us a bit about him.  When did you know it was love? 
I've had a crush on him since I was a kid. He was one of the most popular boys in school and in our youth group, but he was always really nice to me, even when sometimes it probably made him look not so cool in the eyes of his friends. His parents' breakup really shattered his world. He had a hard time accepting it. I thought we'd made a deeper connection when I tried to help him, but then he left for college and I never saw him again until a few weeks ago. I tried to deny the feelings that came rushing back when I saw him. I told myself he was more interested in clearing his brother's name than actually protecting me. But when he defied orders to save my life and risked his job to stand by me, I knew I'd been lying to myself.
What are your strengths and weaknesses?     
I'm well-trained and follow the rules, dedicated to doing the best job I can. I guess my weakness would probably be not wanting to admit to any weaknesses. <grin>
What scares you? 
The possibility of losing a patient due to my own wrong decisions.
If you could change one thing about yourself, what would it be?
Sigh. I guess I'd stop isolating myself from the people who care about me and only want to help.
What do you think about your spiritual life?
I thought it was pretty solid, but I'm starting to see that I have a tendency to rely on myself more than God. I need to be more open to his plans, especially when they don't seem to fit with mine.
What do you admire about the hero?
I confess to being a sucker for his mile-wide protective streak. I also think it's wonderful that he willingly chose to give up a promising career with the Seattle police department to come home and try to help his brother.
Why could you never see yourself ending up with the hero?
I can't afford to let anyone get too close, too much is at stake.
What is the one thing you would never do?
Quit my job as a paramedic. I promised Luke (my second partner) before he died that I wouldn't quit and I owe him that much.
What would you like as your epitaph?
Does anyone else think this is a creepy question? I'm just glad that I don't have to come up with one. That'll be my family's problem.
What do you think about your author? Would you want to hang out with her/him?
I think she's pretty cool. Gotta appreciate the way she orchestrated my reunion with Cole. Well, okay, I could have done without all the near-death experiences, but all's well that ends well, right?
What do you hope people will learn from your experience?
That it's okay to let people see your weaknesses and vulnerabilities. That sometimes being willing to talk about them can help others and yourself in ways you might not imagine. God's power is made perfect in our weaknesses.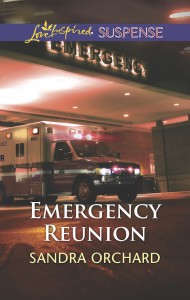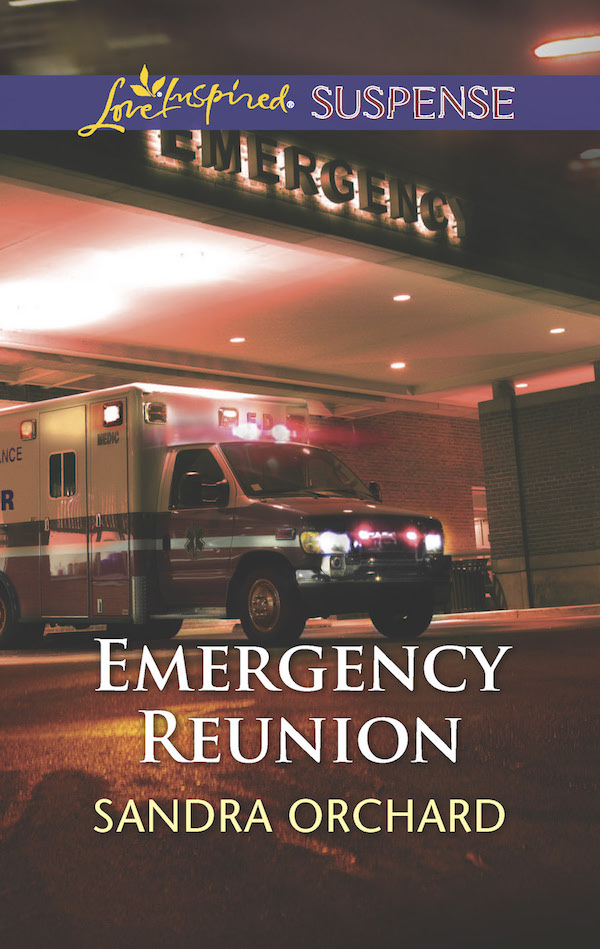 Book Blurb:
Paramedic Sherri Steele refuses to believe someone's out to get her—until she's held at knifepoint in her own ambulance. It'll take her high school crush to convince her she needs protection—and deputy sheriff Cole Donovan is as persuasive as he is handsome. But when his brother rises to the top of the suspects list, Cole's torn between family duty and the woman he's never forgotten. With every emergency call to the paramedics turning into an attack on Sherri's life, Cole's convinced Sherri has a stalker. Cole needs to know whether his brother is the culprit before things spiral out of control.
Survival—and a future with Sherri—depends on discovering who wants to cause trauma to this EMT.
Sandra, would you like to add anything else for the readers.
Thank you for inviting Sherri as your guest today, Pat. I'd also like to mention that the final book in my Port Aster Secrets series released last month, and…for those who haven't started the series, Book One, Deadly Devotion, is currently free in Ebook at online retailers.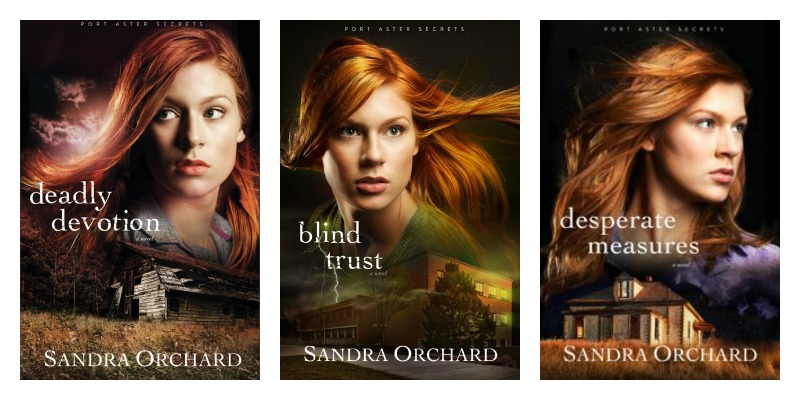 This Pat here—I loved this series. Here's the blurb for the first one.
Researcher Kate Adams has finally pinpointed the medicinal plant responsible for tearing her family apart. She's certain that discovering its secrets is her only hope of solving the mystery surrounding the disappearance of her father. Kate will risk anything to find the truth–even her budding relationship with Detective Tom Parker. But more people than she can fathom are after the plants and going it alone just might prove to be a fatal mistake.
These books are fast paced and have twists and turns where you least expect it. Each book kept me up reading past midnight. I  could not put them down. I would recommend this series to anyone who loves suspense with a dash of romance! The characters are so engaging and will stay with you.
Bio: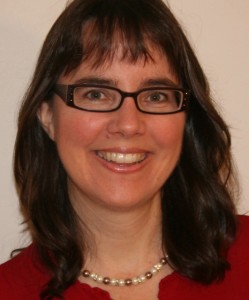 Sandra Orchard is a multi-award-winning author of mysteries and romantic suspense with Revell Publishing and Harlequin's Love Inspired Suspense imprint. She is an active member of American Christian Fiction Writers, Romance Writers of America and The Word Guild (Canada). A mother of three grown children, she lives in Niagara, Canada with her real-life-hero husband and writes full time…when not doting on her young grandchildren. Subscribe to Sandra's newsletter to receive a subscriber-exclusive mini-novella. Learn more about Sandra's books and bonus features, as well as writer helps, at www.SandraOrchard.com or connect at www.Facebook.com/SandraOrchard