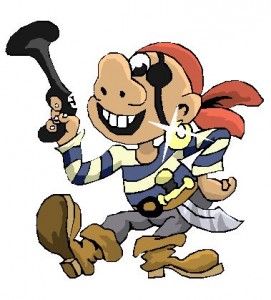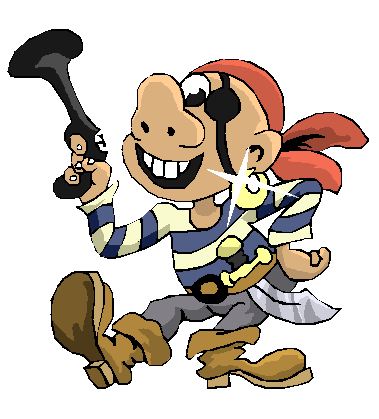 Usually I don't have my phone turned on to receive tweets. Especially at night. But for some reason…call me crazy…I did last Friday night. And at 2 am, I received a tweet. Of course I had to look to see what it was about. Half asleep, I fumbled for my phone. The tweet said someone was spreading ugly rumors about me. So of course, I had to see who…
But the URL on the tweet didn't work, so I turned over and went back to my Ambien-induced sleep. Saturday morning when I checked my email, a dear friend had sent me a message that her Twitter account had been hacked. Even then, it didn't occur to me that by clicking on the URL at 2 am, mine had been hacked as well. But by 9, I knew. I had several messages from followers who wanted to know why ugly rumors were floating around about them. Or where was that photo someone took and was splashing all over the Internet.
So what do you do when you get high-jacked or hacked?
First thing is to change your Twitter password…and if you use the same password for other websites as you do Twitter (like I did—I mean, hey, it's hard to keep up with all those passwords), you need to change them as well.To changed your Twitter password, click on the little man icon.

Go down to settings and click on that.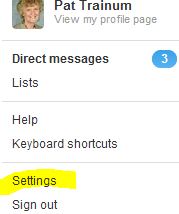 There you'll see this list: Password, Mobile, Notifications, Profile, Design and Apps. Click on Password and follow the directions to change your password.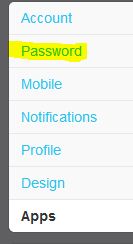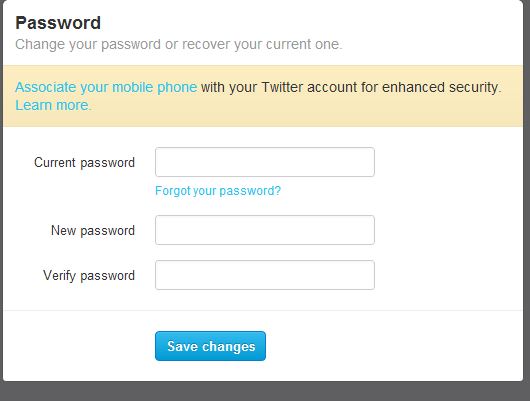 Now, when you're done, go to the Apps section and see who has access access to your account.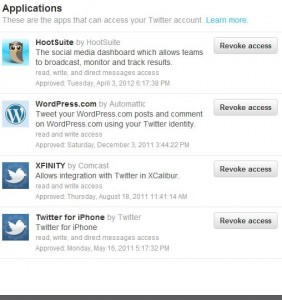 When I clicked on the URL in the tweet at 2 am, I gave spammers access to my Twitter account. So I revoked access to everyone on the list. That's probably overkill, and I'll probably go back and allow some of mine, but not anytime soon.
When you're done with Twitter, do the same thing for every account you have if you used the same password on those accounts. I had several accounts with that same password, and I'd been meaning for some time to change them.
Getting hacked on Twitter was embarrassing, but it wasn't all bad. I changed my passwords so I have no two alike. And I learned I have some very nice people following me. Thank you for being so understanding!
If you've ever been high-jacked leave a comment and tell me your tale of woe. And if you haven't been, tell me what you're doing right.
Photo of pirate from Printshop.