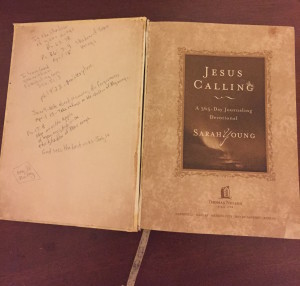 I have journaled off and on over the years, but never regularly until my friend Ros Hutchins gave me a copy of the Jesus Calling Journal by Sarah Young in 2009. Since then I've journaled a line or two every day about whatever is going on in my life that day.
Now, during my quiet time, I can look back over the years and see how God has answered prayers, sometimes not as I expected and other times He has blown me away. And it is so neat to have a record of my writing journey!
I'd like to recommend for you to start a journal. It doesn't have to be more than a line or two a day, and if you do, you'll have a record of your own journey!
To start one person off, if I get 8 entries, I'll give away a copy of Jesus Calling, A 365-Day Journaling Devotional by Sarah Young. (US Postal addresses only for the Print copy; digital for all others) Just leave a comment telling me whether you journal or not.