It's What are you reading Friday and this week I'm reviewing a book I finished earlier this month: Murder Mezzo Forte by Donn Taylor. Here's the back cover blurb: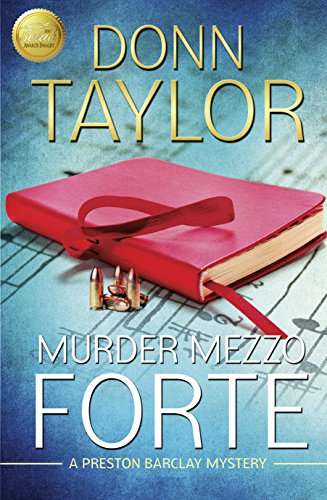 He is a reclusive history professor with musical hallucinations, she a headstrong professor of religion. Earlier, they solved a campus murder, but now police say they formed two-thirds of an illicit love triangle with a newly-murdered female colleague and … are probably guilty of her murder. A leak of the alleged scandal to the college administration threatens their jobs. Now their desperate attempt to prove themselves innocent of the triangle and the murder, plunges them into a tangle of unsavory corporate relationships among college trustees, putting their lives in danger.
Can this ill-matched pair's stumbling efforts succeed against the entrenched efforts of the police, the college's incompetent administration, and the powerful but unseen forces of a criminal organization? If not, they may end up unemployed, in prison, or suffering a fate much worse . . .
I really enjoyed this second book in the Preston Barclay mysteries, the first being Rhapsody in Red. While it's part of a series, Murder Mezzo Forte is also a stand alone, meaning you don't have to read the first one, but I promise, you will want to read it! You can read the opening here.
Now then, what are you reading this week? Leave a comment to be entered in a drawing for one of the books from my personal library that are featured on my blog this month. Drawing limited to US addresses only.