This week has been so busy that I haven't had time to read a new book. I've started one–Dean Koontz's Intensity, but I only read at night and it is so intense that I can't sleep once I finish reading. I don't usually read General market books, but I read an excerpt that was so well written, that I'm reading it as a craft book. 
Now on to this week's book review: 
I read The Memory of You earlier this year and absolutely could not put it down until I finished it. Here's the back cover blurb: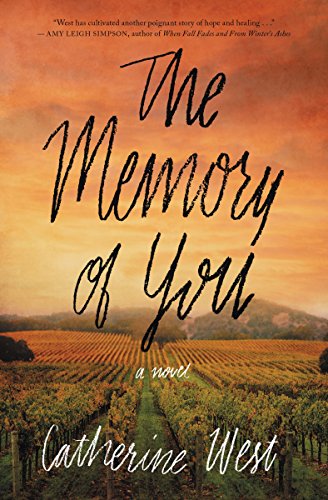 Thirteen years ago, Natalie lost a part of herself when her twin sister died. Will traveling back to the family winery finally put the memory to rest, or will it completely destroy her?
When Natalie Mitchell learns her beloved grandfather has had a heart attack, she's forced to return to their family-owned winery in Sonoma, something she never intended to do. She's avoided her grandparents' sprawling home and all its memories since the summer her sister died—the awful summer Natalie's nightmares began. But the winery is failing, and Natalie's father wants her to shut it down. As the majority shareholder, she has the power to do so.
And Natalie never says no to her father.
Tanner Collins, the vintner on Maoilios, is trying to salvage a bad season and put the Mitchell family's winery back in business. When Natalie shows up, Tanner sees his future about to be crushed. He knows Natalie intends to close the gates, and he's determined to convince her otherwise. But the Natalie he remembers from childhood is long gone, and he's not so sure he likes the woman she's become. Still, the haunted look she wears hints at secrets he wants to unearth. He soon discovers that on the night her sister died, the real Natalie died too. And Tanner must do whatever it takes to resurrect her.
But finding freedom from the past means facing it. For both of them.
I didn't intend to read but a couple of chapters of Catherine West's book, The Memory of You, and ended up reading until past 3 a.m. West captured Natalie's survivor's guilt perfectly. And Tanner dealt with heavy duty pain with his sister and her children. Loved the romance that developed between the two. And I want to go live in Sonoma!
Leave a comment telling me what you're reading this week and I'll enter you in a drawing for a book in my library.
The winner of September's drawing
is:
Susanne!