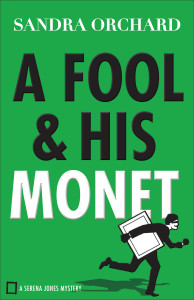 Announcer: Welcome to Are You Smarter Than Your Characters? Our first contestant is Sandra Orchard. Tell us where you're from and a little bit about yourself.
Sandra: Hi, Pat. I'm from the Niagara area in Canada. I'm a mother of three and nana of three more. I majored in Math at university and taught high school math before staying home to raise and homeschool my children. These days I spend most of my time fretting over how much writing I need to do while I do everything but. J
Announcer: Hmm, can relate to that feeling. Our second contestant is Tanner Calhoun of the St. Louis FBI. He is featured in A Fool & His Monet. What would our audience like to know about you, Tanner?
Tanner: I've been a special agent with the St. Louis FBI major crimes squad for more than eight years. I had the privilege of being Serena's field training agent when she joined us last year and I got pretty close to both her and her family. Her father had been my economics prof when I was at Wash U, so he enjoys engaging me in conversations whenever I stop around, which thanks to his wife's frequent invitations to dinner is fairly frequently. Serena's mom isn't on board with Serena's choice of careers and seesaws between securing my assurances I'll watch her daughter's back to entreating me to convince Serena to quit.
Announcer: Sounds as if her parents really like you.
Tanner: Shrugs. I'm ten years older than Serena so I don't think they see me as marriage material or anything. But I've got to admit that if anyone were to ever tempt me, it'd be Serena and her family. They're great. Of course, I don't think that is on Serena's mind much either. Like me, she shares the view that our pursuit of justice is a higher calling.
Announcer: [As an aside to the audience] Sounds like dating is more on Tanner's mind than he's willing to admit, don't you think?
Giggles from the sidelines.
Announcer: [turns to final guest.] Our last contestant is Nathan Butler, also from St. Louis and Tanner's rival inA Fool & His Monet. Would you like to tell us a little about yourself?
Nate: Not much to tell. I act as the superintendent for the apartment building where Serena lives. We share a love of old movies, and of art and of her cat Harold who she adopted along with her Great Aunt Martha's apartment.
Announcer: Oh, so you and Tanner… [wiggles her eyebrows] …are rivals.
[Nate blushes. Tanner's jaw tightens.]
Announcer: Okay, well, moving on. As you know, all three of you are playing for one of our lucky readers who will win an E-copy of A Fool and His Monet. The winner will be announced next Monday. Are you ready?
Sandra: yes
Tanner: fire away.
Nate: as ready as I'll ever be, I guess.
The list of categories for you to choose from are on the board:
| | | | | | |
| --- | --- | --- | --- | --- | --- |
| Books with a Bee | Great H/H | Great Antagonists | Great Settings | Story Goals | Backstory |
| $500 | $500 | $500 | $500 | $500 | $500 |
| $1,000 | $1,000 | $1,000 | $1,000 | $1,000 | $1,000  |
Announcer: Backstage, Sandra won the toss to start the round, so where would you like to begin? Oh, and H/H stands for Hero/Heroine.
Sandra: I'll take Great Settings for $1,000.
Announcer: For $1,000: Where was Meet me in St. Louis set?
Nate buzzes in first: Is this a trick question?
Tanner rolls his eyes: We're not playing Jeopardy here.
Announcer: He's right. Do you have an answer?
Nate: Sure, St. Louis.
Announcer: Awesome. How is that different from your author's book?
Nate: It isn't. Except that Meet Me in St. Louis was set during the World's Fair of 1904, and A Fool and His Monet is set in the present. Otherwise, they're both centered around what's going on in the city and especially in Forest Park. 
Announcer: Interesting. Okay, now you get to choose a category.
Nate studying the board: How about Great Antagonists for $500? [shoots a glare in Tanner's direction]
Announcer [stifles a smirk]: Who or what was the antagonist in The Sound of Music.
Tanner buzzes in. The Nazis. I know that one, because Serena made me watch it when I was sick. Bribed me with chicken soup.
Announcer: You're right. So, who's Serena's antagonist in A Fool and His Monet?
Tanner: The thief who stole the Monet.
 Announcer: And that was… 
Sandra: Hey, he can't tell you that. You'll have to read the book if you want to know!
Announcer: Oops, sorry about that. Of course, you're right. We don't want to give any spoilers. Okay, Tanner you get to choose a category. What'll it be?
Tanner [slants a smirk in Nate's direction]: Great antagonists for a $1000.
Announcer: What famous antagonist in a popular movie also stole a Monet from a museum?
Nate buzzes first: Thomas Crown in The Thomas Crown Affair.
Announcer: Excellent, Nate. Well, we're just about out of time here and you are a runaway winner. But I have one question for Serena Jones, the heroine of the story, before I tell our readers how they can get in on the contest. [turns to the sidelines] Serena, I understand that you pair the people you meet with their Hollywood lookalikes to aid you in remembering their names.
Serena: That's right.
Announcer: So if A Fool and His Monet were made into a movie, who would play Nate and who would play Tanner?
Serena [looks to Tanner and blushes]: I'd rather not say in front of Tanner. He's always trying to guess and I'm afraid that admitting to who it would be will give him a swelled head.
Tanner laughs.
 Announcer: Okay, readers if you'd like to know, pop over to: http://sandraorchard.com/vote-for-your-favorite/ on Sandra's website to see Serena's picks and after you've read the novel, add your voice to the race to determine her favorite. As I understand it, Sandra is going to let her readers decide and write it into the final book. Is that right, Sandra?
Sandra: That's the plan, yes.
Tanner snorts. Nate fidgets nervously.
 Announcer: Awesome. Okay, blog readers, to win either a copy of Sandra's book or an adult coloring book, just click on the Rafflecopter for the more questions you answer, the more chances.  A Fool and His Monet is now available for download and releases in paperback March 1st.
A Fool and His Monet is the first book in Orchard's Serena Jones Mysteries.
Serena is a plucky FBI art crime agent forging her way through a museum of lies to expose the ruthless mastermind behind the recent theft of a priceless painting.
Her passion for uncovering lost and stolen art is surpassed only by her zeal to uncover the truth about the art thief who murdered her grandfather. She's joined the FBI Art Crime Team with the secret hope that one of her cases will lead to his killer. Now, despite her mother's pleas to do something safer—like get married and give her grandkids—Serena's hot on a new case–a Monet stolen from the local museum. The clues point in different directions and her boss orders her to cease investigating her most promising suspect. But determined to solve the case, and perhaps discover another clue in her grandfather's case, she pushes ahead, regardless of the danger.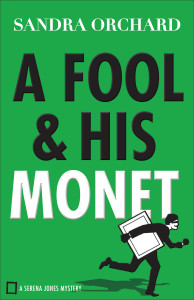 Buy it now here:
http://www.bookdepository.com/Fool-His-Monet-Sandra-Orchard/9780800726713
Connect with Sandra here:
www.Facebook.com/SandraOrchard
https://www.pinterest.com/AuthorSOrchard/
http://bit.ly/Goodreads_SandraO
Be sure to follow Sandra's blog in the following weeks to glean more interesting tidbits about her research with the FBI and check out her bonus features here.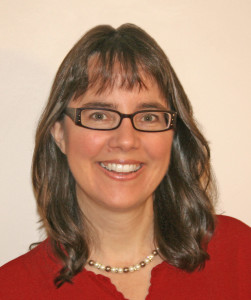 Sandra Orchard—winner of the RT Reviewers' Choice, the National Readers' Choice and the Daphne du Maurier Award of Excellence—leaps off the garden trails of her herbal-researcher-turned-amateur-sleuth (Port Aster Secrets series), to the museum corridors of her plucky FBI art crime agent Serena Jones, in A Fool and His Monet. When not plotting crimes, Sandra plays make-believe with her grandchildren or hikes with her hubby along the escarpment, near their home in Niagara, Canada. www.sandraorchard.com.
What is the title to your next book and what is it about?
Another Day, Another Dali (Oct 2016) delves into the world of art forgery. Fakes can be more easily detected than ever thanks to modern technology, yet many paintings on museum walls or sold at auctions, let alone those sold by smaller dealers, are likely forgeries. It was fascinating to learn tricks of the trade during my research for this book and great fun to incorporate them into the story. On the character front, this story shares more insight into what drives Serena's determination to find her grandfather's killer, and ramps up the growing romantic tension between Serena and the two very different men in her life.
a Rafflecopter giveaway