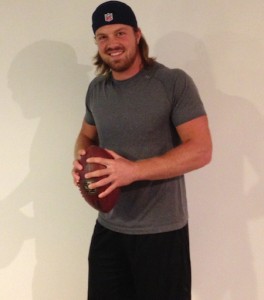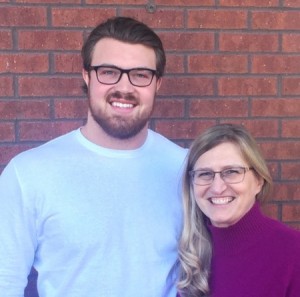 I'm so pleased to have Jake Byrne here this week. And, he's giving away an autographed copy of his book, First and Goal if we have ten commenters!
I first learned about him through his mother, Holly Michael when he became the first juvenile diabetic to play pro-football. And now let's let Jake have center stage.
Me: Tell me about yourself, Jake.
Jake: I grew up in Rogers, Arkansas. A type 1 diabetic since the age of fourteen, I have since been proactive combating the disease and mentoring diabetic youth. I played football for the University of Wisconsin as a tight end, and went on to play in the NFL. Originally an undrafted free agent who signed with the New Orleans Saints in 2012, I also played as a Houston Texan, Kansas City Chief, and San Diego Charger. I am starting a foundation—Type Won—to inspire and educate diabetics to be healthy, active, and pursue their dreams to the fullest. I now live in Dallas and work for a marketing firm. I am married to my beautiful wife, Emma. We share our home with our two dogs – Yeti the Great Dane and Duke the Dogo Argentino.
Me: When and why did you begin writing?
Jake: The seed of writing a book was planted back in college, at the University of Wisconsin. I was playing football for the Badgers and kids with Type 1 diabetes would reach out to me over social media. Not having mentors when I was diagnosed, at age fourteen, I fumbled through a lot of trial and error situations and learned a lot. I liked the idea of writing a devotional. It allowed me to share the faith element along with everything else I learned and at the same time encourage others to keep pushing toward goals.
Me: What does your writing journey look like?
Jake: It started with a phone call with my mom, an author. We talked about writing a football-based devotional. At the time, I was playing for the San Diego Chargers so my mom pitched it at an upcoming writing conference and Harvest House offered a contract.
Me: How long did it take to get your first book published?
Jake: Since First and Goal is a non-fiction book, we started with a one-sheet that included a sample devotional we had worked up. Writing the book came later, after we put together a couple of sample devotionals and got the contract.
Me: Tell me about your book, and how would you summarize it in less than 20 words?
Jake: First and Goal is an inspiring football devotional based on my spiritual journey, my battle with Type 1 diabetes, playing in the NFL and through my life challenges. Through it all, God has guided me.
Me: How long did it take you to write it, from the original idea to hitting send?
Jake: First and Goal took about nine months to write while I was playing in the NFL.
Me: What piece of advice would you give to a new writer?
Jake: Same thing I would tell anyone pushing toward reaching any goal. Do not let anything stand in your way. Never give up. If your goal is to write a book, keep at it.
Me: How can people contact you?
Blog details  www.typewon.net
Facebook page https://www.facebook.com/typewon1
Goodreads author page https://www.goodreads.com/book/show/23875171-first-and-goal?from_search=true&search_version=service
Twitter details @sugarfreeJb82
Instagram – https://instagram.com/jakebyrne81/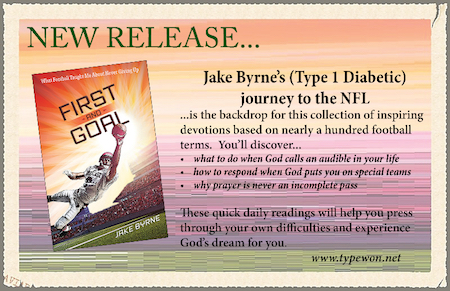 Use the Rafflecopter to be entered for Jake's book (print copy for U.S. addresses and e-copy for others), leave a comment or question you have for Jake. Must have ten commenters, so encourage your friends to enter!