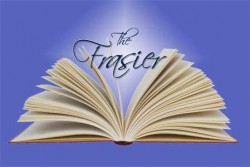 Number One: The Feedback I received from my Frasier entry was the most in-depth I've ever received from contest judges. I'm going to share a comment from one of the judges: SHOW us her emotional response to that (an event in the story) in disjointed sentences, and repetitive gestures, and other body language that would convey how rattled she is. Telling us in her reflections doesn't make the reader feel her emotion. This is just one of the comments from the judges. They went out of their way to help me understand what was lacking in my story. I took their advice and applied it not only to the first scene but also throughout the book, making the manuscript much stronger.
Number Two: Opportunity—it's an opportunity to get your work in front of an agent and an editor if you final.
Number Three: Challenge—you will be putting your work up against all genres and levels of writing, and that isn't easy (I had ain't, but my spell checker went crazy). But like any challenge, once you meet it, you feel really good about yourself. Even if you don't bronze, final or win, you will have taken a proactive role in your writing career.
Number Four: The Synopsis—writing a 500-word synopsis will teach you how to make every word count. It will teach you how to take a bird's-eye-view of your story, and like all synopses, it will help you see if your story flows.
Number Five: You might win! While I've never won the Frasier, I have finaled and bronzed. I promise, if you go to ACFW in Dallas and you have a Frasier finalist or bronze ribbon, editors and agents take notice.
So what are you waiting for? The 2012 Frasier Contest, My Book Therapy's story crafting contest for unpublished novelists, is open now through March 31. The winner will be announced at the annual MBT Pizza Party during the 2012 ACFW Conference in Dallas – and will receive a free MBT retreat (a $500 value!). Final round entries will be judged by award-winning author Susan May Warren, Tyndale House acquisitions editor Stephanie Broene, and Karen Ball, literary agent with the Steve Laube Agency. All guidelines and registration details are available here.