Tonya Kuper had this great idea of creating a Blog Hop  with the authors at The Seymour Agency to share how each of us received our call from either Mary Sue Seymour or Nichole Resciniti for representation. Click on the telephone and scroll down for a link to learn how my fellow agency mates received their call.
I'm giving away two $10 Amazon gift cards. Just leave a comment to be entered. Sign up for my blog, tweet about this post or post on your FaceBook page for additional chances. Just be sure to let me know in your comment along with your email address so I can contact you.
The contest ends Monday evening and the winner will be announced Tuesday, January 15th.
Before the Call…
I started out writing short stories. Actually Woman's World  bought the very first story I ever wrote, a 2,000-word mini-mystery.Then they bought two more, and each time the word count got smaller. Short stories will really teach you how to make every word count. Blood Kin was the last one and the shortest at 1000 words, but the most fun to write.
In 2001, I took a ten year break from fiction to work with kids in the Abstinence Program in Mississippi. I loved that job, but I missed my fiction! So, in 2008 I began working on Shadows of the Past. That year it won the Maggie in the Unpublished Inspirational category. That's also when I met Mary Sue for the first time. She requested the full manuscript at Moonlight and Magnolias, the Georgia RWA conference in Atlanta.
My only problem? It wasn't finished. And wouldn't be until 2012. Slow writer. Although I have gotten faster.
Every time I went to a conference, I would run into Mary Sue, and she'd say, "Send me that manuscript." And I would go home, fulling intending to send it…as soon as I finished it. The book went through 4 years of revisions. Finally in March of last year, I mailed her the completed manuscript, and in July she emailed me, offering representation.
My feet didn't hit the floor for two weeks. Here's a photo of me filling out the contract.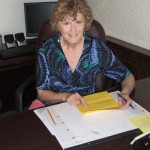 After The Call:
Since signing with Mary Sue, I've landed a three-book deal with Revell. The first book, Shadows of the Past, will debut in February 2014. The second, Shadows of Love, will come out in September, 2014, and the third in July of 2015. It's an exciting journey, one that God called me to. And, getting to know Mary Sue has been a wonderful experience. Her kindness and encouragement have been such a blessing.
One last thing I'd like to say. Whenever I prayed about getting an agent, God always brought Mary Sue to my mind, so I wasn't totally surprised when she offered me a contract.
If you want to write a book, keep in mind that it's your job to write. God will bring His plan for you to pass. And remember publishing is a slow process. In fact, my tag line is: I asked God to teach me patience, and He gave me a book to write. Just don't give up.
Be sure and leave a comment to be entered. And you'll receive additional entries for each link to this blog–tweeting and/or posting on FB and/or if you subscribe to my blog. If you're already subscribed, just mention it in your comment. Hope you found my story interesting.