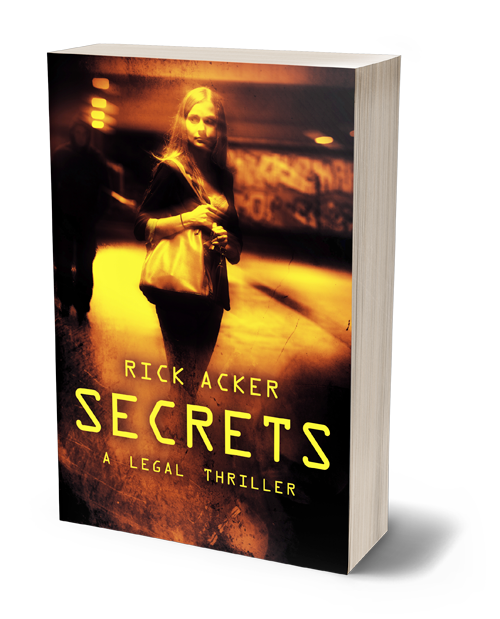 Oh.My.Goodness. Rick Acker wrote one of my all-time favorite stories–When the Devil Whistles–and now we are featured in the same anthology, The Kill Zone: Ten Deadly Thrillers! His book is Secrets, and the story is full of them. Here's the back cover blurb and then I'll give my review:
"Everyone has secrets. Silicon Valley billionaire Scott Sherman's could forever change three women's lives—and possibly much, much more."
Silicon Valley billionaire Scott Sherman dies, takes life-changing secrets to his grave.
But will they stay buried with him? Scott poured a large chunk of his fortune into an aerospace startup called Space Pirates, Inc. Space Pirates is on the brink of a major discovery— but did they use key data stolen from Scott's old nemesis, Russian scientist Viktorya Mikhailova?
Viktorya works for a shadowy Russian institute, which is racing to beat Space Pirates. They sue Space Pirates for the alleged theft— threatening to permanently ground the American company. Further complicating matters, Viktorya's daughter Arina is a key member of Space Pirates' scientific team.
Space Pirates hires hot-shot San Francisco litigator Leigh Collins to defend the case. Leigh recruits computer expert Kevin Fang and Russian-American detective Sergei Spassky to join her team. They begin to uncover the truth— but some secrets can be deadly….
My review:
I read this book in one sitting because I had to know what happened. It is fast-paced with characters I cared about, especially Arina. And Sergei is a dream P.I.!I loved the way Arina kept digging until she discovered why anyone would pour billions of dollars into being the first to land a craft on an asteroid. I had no idea they could be so valuable!  And, by the way, did you know pace-makers can be hacked?
This story, like all the others in the anthology, is riveting. I am so proud to be part of an anthology with such talented writers. I'll be back with the review of another story in The Kill Zone next week.
Now, what are you reading this week? Leave a comment to be entered in a drawing for one of the books reviewed on Reader Friday.