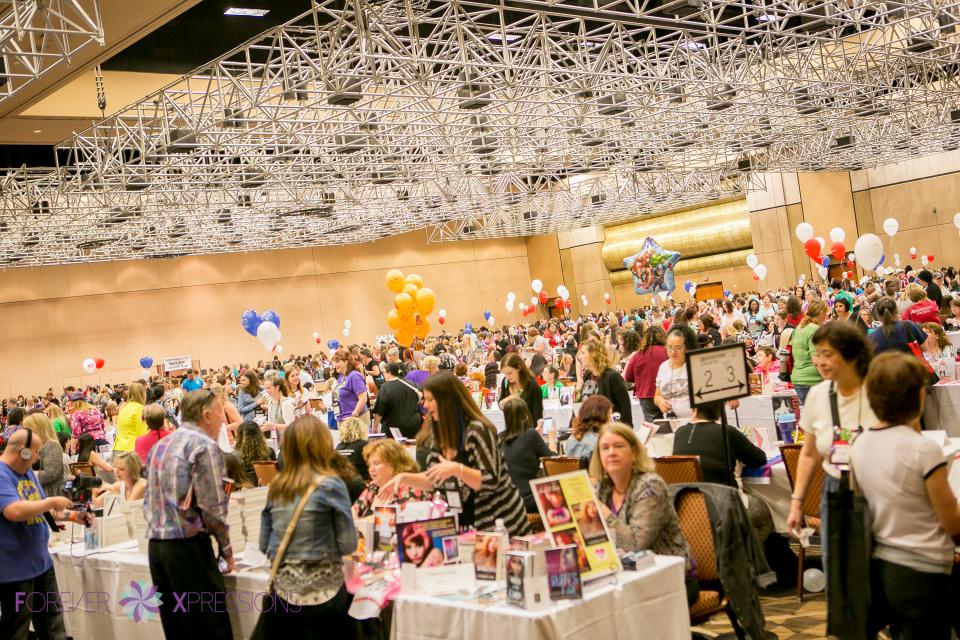 Tomorrow I leave for Atlanta to attend the Romantic Times Booklover Convention! Yes, I know, my book isn't finished and the deadline is loooooommmming. But I signed up to go when I thought I'd have the book turned in. I'm signing books at Revell's
On Thursday at 12:20-1:20, I'm signing books at Revell's Books! Chocolate! Authors! event, and from 4-5 I'll be hosting a table at  The Seymour Agency's Shooting Stars Gala! I'll be giving away books and happy's there. And we're playing Bingo where attendees will win prizes. All free, of course, if you're attending the RT convention.
This is one part of marketing I love–meeting my readers! Do you see that jam-packed room? I had no idea so many readers attended RT! So, if you happen to be coming to RT, be sure and stop by the two events where I am.
Now for this month's winner, who will have the choice between the 2017 Christian Market Guide or a book from my library…drum roll, please…..and the winner is Jerusha Agen. And the winner of the data drive is Edward Arrington!
And since the winner of the adult coloring book never contacted me, I am drawing another name for it. And that name is Trixi! I'll be contacting the winners by email later today.
Now on to last week's Mystery Question. One of the statements is FALSE, the rest, unfortunately, are true:
"The guy was all over the road. I had to swerve a number of times before I hit him."
"The telephone pole was approaching fast. I was attempting to swerve out of its path when it struck my front end."
"I was driving along when all of a sudden I heard this rattlesnake in my car. It scared me so bad I ran off the road into the ditch. That's when I found out it was my toddler shaking his baby rattle."
"The indirect cause of this accident was a little guy in a small car with a big mouth."
And the correct answer is…#3. Quite a few of you guessed it, so I'll have to try harder this week. 🙂
I'm enjoying these crazy statements so once again I'm listing three true insurance/police statements from accident reports. One is false. It is your job, should you decide to take it, to guess the false statement.
"The pedestrian had no idea which direction to go, so I ran over him."
"I drank too much and kissed a woman who wasn't my wife, and her husband knocked my lights out."
"Coming home, I drove into the wrong house and collided with a tree I don't have."
"I pulled away from the side of the road, glanced at my mother-in-law, and headed over the embankment."
Okay, Super Sleuths, leave a comment to be entered in a contest for my latest book, Justice Delayed! And I don't know about you, but some of these made me laugh until tears rolled.
As always, a tweet would be wonderful!