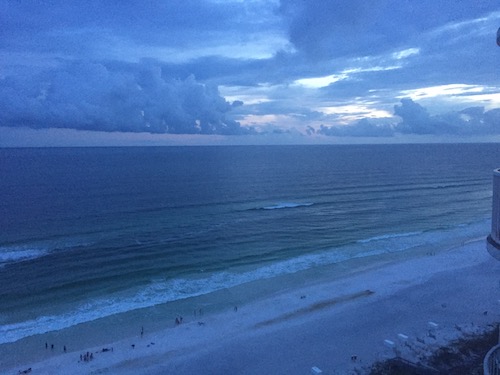 This past week I spent time at Destin with my family, so my blog post is a little short. 🙂 I had no idea the waves could get so high down there. I almost thought I was in Hawaii!
Last week's Mystery Question. Which one of the following technologies is incorrect?
 Generic property marker: a water-based solution that can be sprayed or painted to mark your property with a unique chemical code. Stolen items can be identified by the chemical barcode.
Biometrics, including facial recognition software–you've seen it on the crime shows where the police tech matches a photo with an actual person, but is it real?
Technology that alerts police to the location of gun shots as they happen. It also distinguishes between the gun shot and the echoes that follow.
Satellite imaging: real-time satellite photos of specific areas where crime is likely to occur, giving police a heads-up on a crime as it happens.
And the incorrect technology is #4. We're close but now quite there yet. Congratulations on guessing correctly Delores, Anne, Lisa, Jackie and Loraine for getting it right!
Now for this week's Mystery Question:
A man's house caught fire and he began unloading his most important belongings out a window and carried them to his car. A week later he was arrested for arson. Why?
When asked if he'd bought any type of accelerant in the past month he said no, but a hardware store receipt found in a part of the house that didn't burn showed he'd purchased a gallon can of paint thinner just days before the fire.
A nine-year-old boy who lived in the neighborhood told his father he had seen the man pouring something from a can around the house and then throw a match on it. They reported it to the police.
When the police checked his pacemaker, it showed no high heart rates that would indicate strenuous activity during the time in question.
The fire marshal found copper clips and nails at the source of the fire and deduced that he had used a lemon, copper clips, nails, wire, and tissue paper to start a fire next to the cotton curtains.
Okay, Super Sleuths, what is the correct answer? Leave your answer in the comment box to be entered in a drawing for Justice Buried when it releases!