Release Day!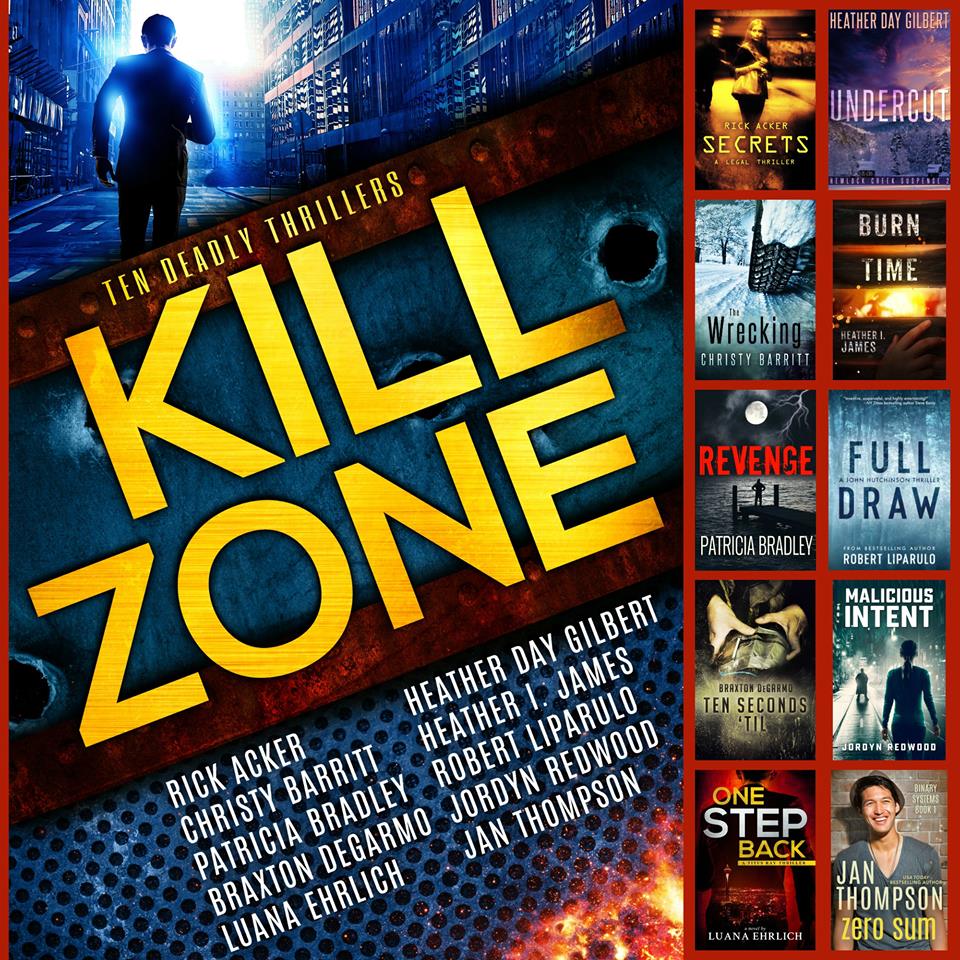 The Kill Zone: Ten Deadly Thrillers has released!! And the winner of the $25 Amazon gift card is Caryl Kane!
Other winners of a digital copy of The Kill Zone: Ten Deadly Thrillers are:
Susan S, Bonnie Hilligoss, Linda Reville, Geri Moore, Pat Jones and Edward Arrington.
Congratulations!
And the winner of September's drawing is Delores Topliff!
Now for last week's Mystery Question answer. Which three scams have people fallen for?
Dear Sir/Madam, We have logged your IP-address on more than 30 illegal Websites. Important: Please answer our questions! The list of questions are attached. Yours faithfully, Steven Allison, Federal Bureau of Investigation-FBI– when people click on the attachment, they download a dangerous variant of the w/32 sober virus that locks up their computer.
The $2 million money wash: An Australian poured $2 million into a sham investment scheme which claimed to be able to convert blank paper into currency using a chemical process. It's an old trick but this was a record haul for the crooks.
More than a few people have been duped into buying an avocado-based pill costing one hundred dollars for thirty capsules that promise to melt away stomach fat. Buyers responded to a Facebook add –to the tune of over ten million dollars in the past five years.
US investors are thought to have lost $140 million in an international scheme to sell billions of worthless stocks. After victims had been stung, the alleged scammers then offered to help them get their money back, charging a hefty upfront fee but, of course, doing nothing.
And the answer is…#3 I can't believe I skunked everyone!!! And as for #4, which a lot of you thought I made up, I can't believe people would fall for the same scammers twice!
Now for this week's Mystery Question taken from police blotter reports. Three are true, one is false. Which one did I make up?
Officers were dispatched to a local tavern after a report of a man attempting to enter the tavern riding a longhorn steer. Upon arrival the officers arrested the suspect and called animal control for the steer. When asked why he rode the steer to the tavern, the suspect replied that he didn't want to be arrested for DUI.
Officers were dispatched to a residence to investigate a stabbing. On arrival, officers contacted two males inside the residence, one of whom had been stabbed in the arm and in the leg. The investigation revealed that the two males were friends and were playing a video game inside the residence and began to argue about the game. The verbal argument escalated into a physical disturbance and the victim was stabbed.

Police received a call about a suspicious vehicle. Upon initial contact with the vehicle, officers observed the suspect climb out of the trunk, but quickly go back into the trunk when he observed officers by his vehicle. A K9 unit responded to assist with arresting the suspect for his Felony Eluding charge. The suspect was eventually removed from the trunk of the vehicle, at which time he fled on foot and was then apprehended by the K9 dog.

Officers were dispatched for a reported shooting. Upon

arrival

officers made contact with the victim who said that he was carrying his .40 caliber Glock as he got into his parked vehicle. He went to holster the gun in a firearms holster attached to the seat and did not realize his finger was on the trigger. The gun went off and the bullet struck his right upper leg and he was transported to the hospital for

non life threatening

injuries.
Okay, Super Sleuths, which one did I make up? Leave a comment and be entered in October's drawing for a $10 Amazon gift card or a print copy of Justice Buried.