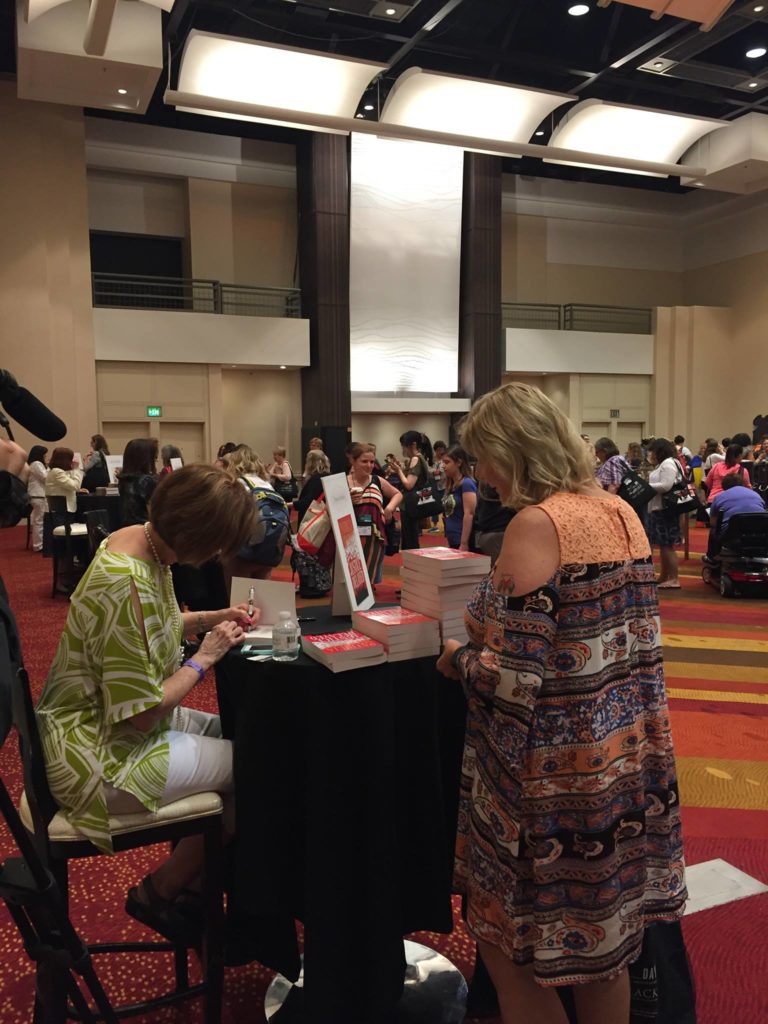 EXCITING NEWS! Justice Delayed is Amazon's Monthly Kindle Deal for $2.99!! And not only at Amazon, but all the other e-book stores. If you haven't gotten it, now is the time! Offer ends May 31, 2017.
Now on to last week. I'm here to tell you, I've never seen so many people in one place. RT was OVERWHELMING! I signed over 150 books at the Revell Books! Chocolate! Authors! event. The photo was taken when the event was winding down.
Before readers came in I looked around the room at all the chocolate (and can you believe I didn't take one picture!). There were chocolate strawberries, truffles, brownies, candy, candy, candy! I made the comment that I hoped there wasn't one piece left over. Guess what?? There wasn't!
I wish you could have seen me walking up Peachtree Street, taking my swag for the Seymour Agency "Shooting Stars Gala" to the Hyatt. I was carrying it in a white laundry basket! You see, the hotel was booked by the time I registered and I had to stay at a different hotel.
Thursday morning, I woke up to rain and wondered how in the world I'd get the bags to the hotel. Well, God is good! He stopped the rain for me to deliver the swag and then again when it was time to walk back to my hotel. 🙂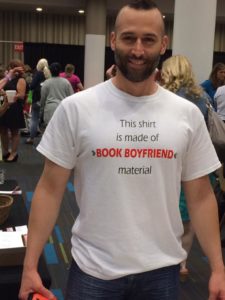 I've tried to find out how many attended, and I think there were about a thousand romance readers there! And you know if it was a romance convention, there were male cover models! "Whew," she said, fanning. 😉 Should have gotten at least one photo!
OH! Wait! My friend Carrie from Reading is My Superpower did get one. 🙂  See, some people know what's important.
Now on to last week's Mystery Question. Which was the false statement?
"The pedestrian had no idea which direction to go, so I ran over him."
"I drank too much and kissed a woman who wasn't my wife, and her husband knocked my lights out."
"Coming home, I drove into the wrong house and collided with a tree I don't have."
"I pulled away from the side of the road, glanced at my mother-in-law, and headed over the embankment."
It was #2. 🙂 Delores and Jackie guessed correctly!
Now for this week's Mystery Question. Again, since I didn't get ANY writing done last week, we're staying with the blotter reports. Three are true and one is false. It is your job to guess the false one!
"I was on a one-way street going the right way when I realized someone had moved the sign and I was no longer going the right way."
"I was backing my car out of the driveway in the usual manner when it was struck by the other car in the same place where it had been struck several times before."
"I was sure the old fellow would never make it to the other side of the road when I struck him."
"When I could not avoid a collision, I stepped on the gas and crashed into the other car."
Okay, Super Sleuths, which is the false report? Leave your comment below to be entered in a drawing for a $10 Amazon gift card.