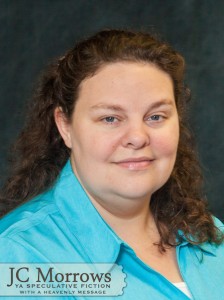 JC Morrow has been telling stories in one form or another her entire life and once her mother convinced her to write them down, she couldn't stop. She gives God all of the glory for her talent and ability!
Me: JC Morrows. Is this a pen name?
J.C: Yes, I write under a pen name for three reasons; 1 – speculative fiction is my first love and my given name doesn't sound like a speculative author name; 2 – I write Amish fiction under my given name;  3 – My mother had a different name picked out for me but the combination of a difficult birth and a stubborn husband changed her plans. I thought it would be a fitting tribute to her… to use those initials in my pen name.
Me: What does your writing journey look like?
J.C.: Probably a bit messy… after college, my time was spent being a wife & mom, until my circumstances changed and I found myself moving back in with my mom. Now I'm a full-time mom, home-school teacher and writer! It hasn't been an easy road, but I am truly blessed to see how God has taken the less-than-perfect vessel I am and filled it with some amazing things!
Me: How long did it take to get your first book published?
J.C. My first published book released September 29th of this year. This is actually the 7th book I have completed. I began seeking publication in 2013. Once I let go and let GOD – it was all downhill (and a bit of snowballing lately). HIS timing is so much better than mine!
Me: A Reluctant Assassin is published by a small publisher. What do you like/not like about it?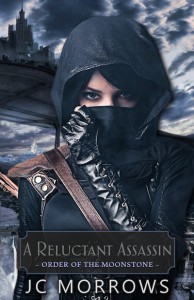 J.C. S&G is a very small and new publisher – which is similar in many ways to Indy publishing. So far, I love it! I'm not crazy about the lack of options available… it's difficult to get author signings set up or have bookstores carry my book because I don't have a big name yet and neither does S&G, but I like that I have so much more control over my work than I would if I were with a larger house. Too many author friends tell me that their publisher wants them to take out a lot of the story that pertains to God and I don't have to worry about that with S&G.
How long does it usually take you to write a book, from the original idea to hitting send?
There is no normal for me. I have written a rough draft in as little as two weeks or as long as three months (not counting the meandering route my first novel took, which was well over a year.
Me: What piece of advice would you give to a new writer?
JC: NEVER QUIT! Do not let anyone stop you from writing, if it's what you really want to do! And don't listen to people who tell you to stop – NO ONE knows your future the way GOD knows it! If HE has called you to write, that is what you are supposed to be doing! Let Him have His way and wait on His timing. It'll be worth it!
Me: Do you have another project in the works? If so, what is it?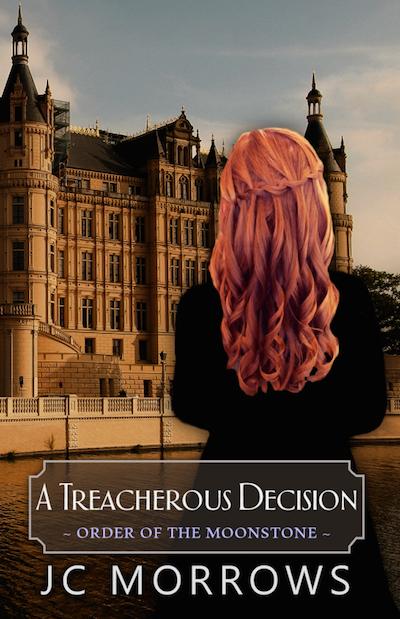 Book 2 of the Order of the MoonStone series – A Treacherous Decision – releases in December.
Me: How can people contact you?
E-mail works best – jcmorrows@jcmorrows.com but there is also a contact page on my website:http://jcmorrows.com/contact/
Blog: http://jcmorrows.com/blog/
Facebook: https://www.facebook.com/JC.Morrows.Author
Goodreads author page: https://www.goodreads.com/author/show/7279550.J_C_Morrows
Twitter: https://twitter.com/JCMorrows
Instagram: http://instagram.com/jcmorrows
Pinterest: http://www.pinterest.com/jcmorrows/
Your G+ page: https://plus.google.com/JCMorrows
Book Blurb:
Her mission was simple — get close to the Prince, and kill him. . .
Kayden entered the palace under a lie, one designed to get her close to the Prince. On the outside, she may look like a princess but beneath the mask, a killer lays in wait — for the perfect moment.
Dvarius was not ready to take the crown, nor was he ready for a wife . . .
But due to his father's unexpected death and an archaic law — he must find a bride before he is allowed to take his rightful place on the throne.
And the one woman he wants — just might be the one who is there to kill him…
LINKS:
Amazon Pre-Order: http://www.amazon.com/dp/B0137ZPN92/ref=cm_sw_r_fa_dp_S-zVvb165M5YN
iTunes: https://itunes.apple.com/us/book/id1025619647
Kobo: https://store.kobobooks.com/en-CA/ebook/a-reluctant-assassin-2
Nook: http://www.barnesandnoble.com/w/a-reluctant-assassin-jc-morrows/1122449794?ean=2940152296495
Website: http://jcmorrows.com
Twitter: https://twitter.com/JCMorrows
Pinterest: http://www.pinterest.com/jcmorrows/
Facebook: https://www.facebook.com/JC.Morrows.Author
Instagram: http://instagram.com/jcmorrows
"And the LORD answered me, and said, Write the vision, and make it plain upon tables, that he may run that readeth it." Habakkuk 2:2 KJV
If we have 6 commenters, JC will give away a Kindle copy of her book.